TRIESTE/KIEV, November 26 (RIA Novosti) – Russian President Vladimir Putin has warned European Union officials to refrain from harsh rhetoric in assessing Moscow's position over Ukraine's approach to economic integration with Europe.
Officials in Europe are still bristling from the reversal of course effected last week by Kiev, which announced that it was suspending preparations for what had been expected to be the imminent conclusion of a landmark EU trade deal.
The suddenness of the Ukrainian government's decision to tack back to closer economic relations with Russia and other former Soviet states has prompted widespread claims that the Kremlin pressured Kiev into the move.
Putin said that while Ukraine was free to make its own decisions, Moscow also needed to consider how Russian interests would be impacted by closer trade ties between Ukraine and Europe.
"I would ask our friends in Brussels to refrain from harsh expressions," Putin said. "It should not be that just so we can be liked by them we must allow the decimation of entire swathes of our economy."
The Russian leader made the comments on an official visit to Italy during a press conference with the Italian prime minister.
Kremlin officials have expressed concern that a flood of European goods into Ukraine would eventually be re-exported to Russia, hurting domestic producers and leading to greater unemployment as a knock-on effect.
Putin said that while youth unemployment in some European countries had reached 40 percent, overall joblessness in Russia stands at a historic low of 5.3 percent.
International critics of the Putin government maintain that Russia's main aim in its dealings with Ukraine is to maintain its dominance over the former Soviet neighbor.
Kremlin officials have in the past openly threatened Ukraine that an EU trade deal would preface trade embargoes.
© Sputnik
Russia – Ukraine Gas Dispute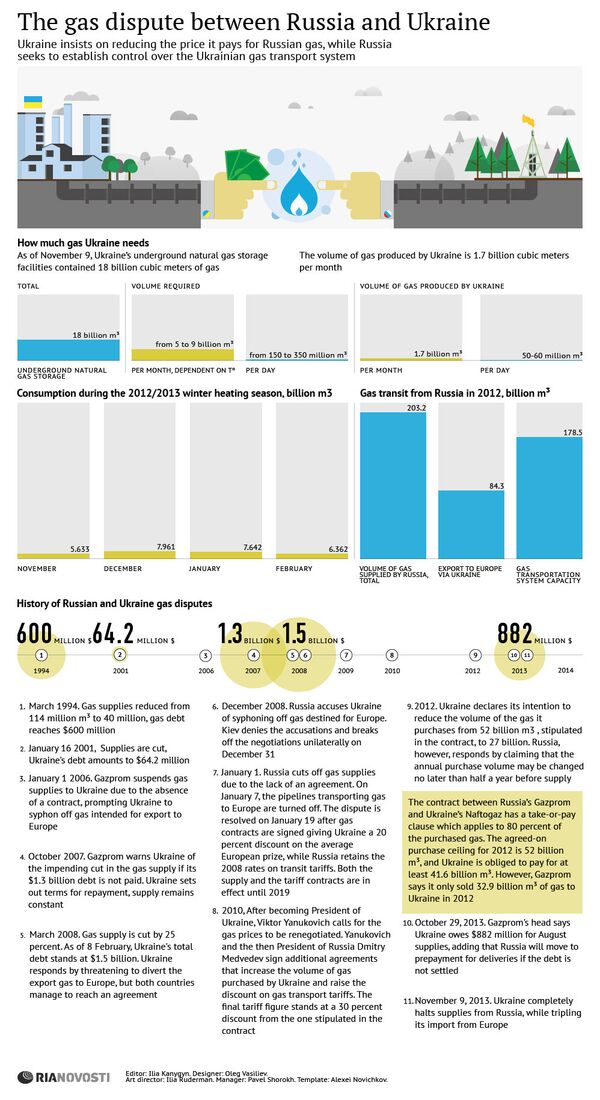 Russia – Ukraine Gas Dispute
Earlier this year, Russia cited hygiene concerns when it slapped an import ban on the products of a major Ukrainian candy maker that provides work for thousands of people.
In October, Russian state-run energy giant Gazprom complained that Ukraine had not settled an $882 million unpaid natural gas bill for August and warned that it could in future begin demanding advance payment for the fuel.
That prompted Ukraine to announce it would stop buying Russian gas until the end of the year, which raised the specter of a possible halt of deliveries to Western Europe, only for Kiev to back down a few days later.
Protests that erupted in the Ukrainian capital, Kiev, and across several other cities and towns against the government's decision to scrap the EU agreement continued for a sixth day Tuesday.
Thousands of mainly young people braved temperatures around freezing point, and there appeared to be no repetition of clashes seen on previous days.
City authorities appeared to be taking a more conciliatory approach by offering to provide sanitary facilities and warm accommodation for demonstrators.
© RIA Novosti
"Gas case" against Yulia Tymoshenko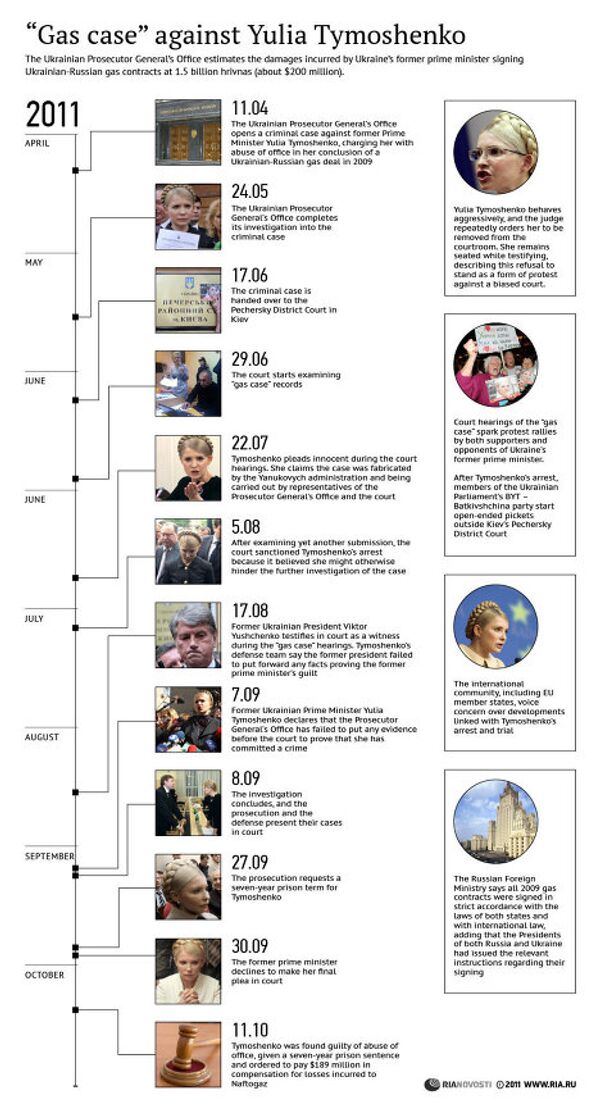 "Gas case" against Yulia Tymoshenko
Nonetheless, Deputy Interior Minister Sergei Lekar said Tuesday that five criminal cases had been opened into violent incidents sparked by protests over the past few days.
Jailed opposition leader and former Prime Minister Yulia Tymoshenko, who turns 53 years old on Wednesday, has expressed her protest at the government by launching an indefinite hunger strike.
Maja Kocijancic, a spokeswoman for EU foreign policy chief Catherine Ashton, said that Brussels was concerned about Tymoshenko's well-being.
The issue of European integration has evenly divided views across Ukraine.
© Сollage by RIA Novosti
Customs Union of Russia, Belarus and Kazakhstan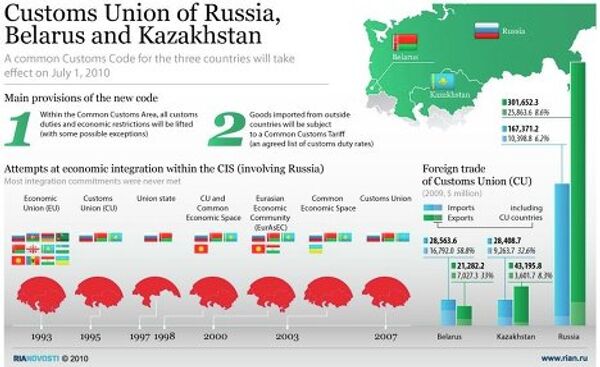 Customs Union of Russia, Belarus and Kazakhstan
According to a Kiev International Statistics Institute survey released Tuesday, support for a turn to Western Europe or back to Russia and the Moscow-led Customs Union both enjoy backing from about 38 percent of the 2,000 people polled earlier this month.