MOSCOW, December 5 (RIA Novosti) – Ukraine has signed a long-expected deal to cooperate with China on constructing an energy plant to convert coal into synthetic natural gas. 
The project will allow about 4 billion cubic meters of natural gas to be replaced annually with the synthetic coal-based product, Ukraine's Energy Ministry said in a statement Thursday. 
The statement said the plant would provide a market for the production of 10 million tons of coal annually and create over 2,000 jobs.
Ukraine's state gas and oil company Naftogaz signed a $3.7 billion credit agreement last year with China's state-owned Development Bank to finance the program.
China's National Chemical Engineering contractor and its subsidiary, Wuhuan Engineering, will provide Ukraine with the technology to build the plant. 
Synthetic gas production is a multibillion-dollar pollution-reduction project in China, which as of September had approved 18 of its own plants capable of producing 75 billion cubic meters of gas annually, according to the World Resources Institute. 
The idea has drawn criticism from environmentalists, however, who say the amount of greenhouse gases produced in the conversion process could accelerate climate change.
© Sputnik
Russia – Ukraine Gas Dispute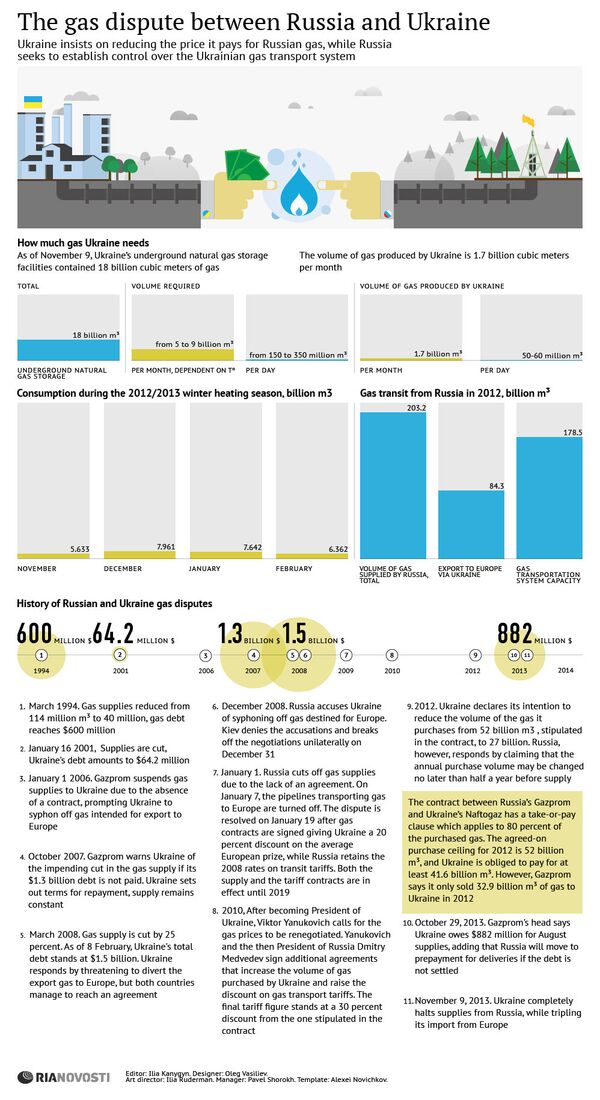 Russia – Ukraine Gas Dispute
Synthetic gas is a cheap energy alternative for Ukraine, which is desperately trying to cut its dependence on costly Russian natural gas. 
Russia's gas export monopoly Gazprom says Ukraine is currently $2 billion behind on gas payments.