MOSCOW, December 16 (RIA Novosti) – Russia's Air Force has grounded all MiG-31 Foxhound interceptor jets while investigators establish the cause of a crash of one of the planes, RIA Novosti has learned.
The temporary suspension was imposed after a MiG-31 crashed near the Tsentralnaya Uglovaya airbase outside Vladivostok in Russia's Far East on Saturday, an Air Force source said. The two-man crew guided the aircraft to a deserted area before ejecting to safety and they were released from hospital Monday.
Investigators are examining the maintenance record of the plane, which they said crashed while on its first qualifying flight after a major overhaul. The Defense Ministry announced that one of the MiG-31's two engines failed just before the accident.
A MiG-31 crashed in Kazakhstan in April, killing its pilot and injuring its navigator, four months after it had been overhauled. Kazakhstan, the only other country to use the MiG-31, temporarily suspended flights following the crash.
The MiG-31 is the fastest fighter-interceptor in operation with any air force in the world and is designed to rapidly intercept aircraft or cruise missiles violating Russian airspace. The Russian Air Force has 122 in service.
A modernization program was launched in 2011 to give the 30-year-old jet new radar, avionics, cockpit displays and a firing control system that can track ten targets simultaneously. Sixty of the upgraded models, designated the MiG-31BM, are to be delivered by 2020 under a tender with the United Aircraft Corporation.
Russia announced in September 2012 that a MiG-31 squadron would be stationed on the Arctic island of Novaya Zemlya as part of a nationwide air defense system. The Air Force said in August that it plans to keep MiG-31s in service until at least 2028.
© RIA Novosti
Russian MiG-31 Fighter Jet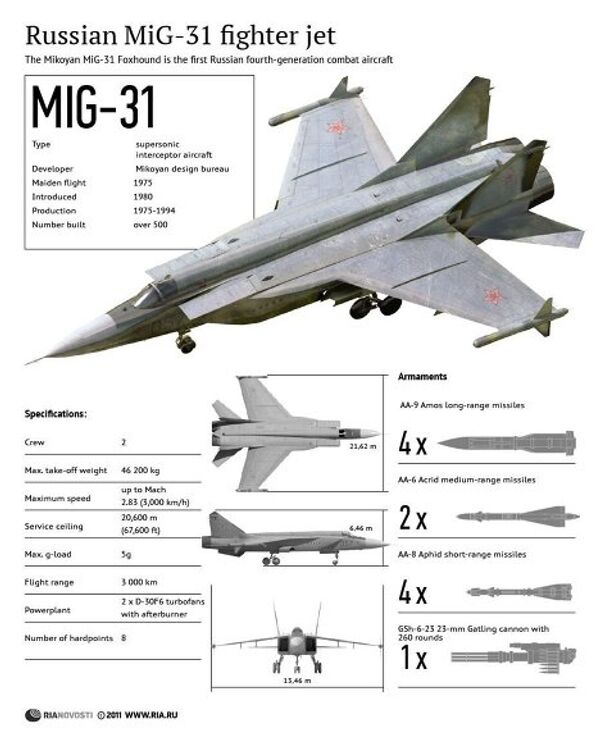 Russian MiG-31 Fighter Jet
The Russian government issued a report on Saturday calling for increased aviation safety. Prime Minister Dmitry Medvedev noted at a Cabinet meeting this month that the government had failed to meet aviation safety targets.