MOSCOW, December 20 (RIA Novosti) – Russia should beef up its naval presence in the Arctic to protect its economic interests in the region from the encroachment of NATO nations, a senior minister said on Friday.
"Obviously military efforts safeguard economic ambitions. It would be strange for Russia, which has an enormous Arctic coastline, not to begin energetic, firm action for exploiting the region," Deputy Prime Minister Dmitry Rogozin said. "This is not an economic task, it's a geopolitical one. It's a question of national defense."
Rogozin, who oversees the defense industry, said Russia must synchronize its economic plans in the region with its shipbuilding capacity as NATO countries had been discussing a stronger military presence in the region since at least 2009.
Last week, Russian President Vladimir Putin ordered the military to increase its presence in the Arctic next year.
Rogozin announced that a shipyard in the Far Eastern city of Khabarovsk will host a meeting of maritime officials early next year to discuss plans to build an industrial shipbuilding cluster in the region.
A draft presidential decree would create a consortium of companies, including hydrocarbon giants Gazprom and Rosneft, to oversee the project.
Earlier this month Defense Minister Sergei Shoigu announced plans to station Russian fighters in the Arctic in 2014. Construction of a base for them has already begun.
The recession of Arctic sea ice in recent years due to global climate change has led to increased international legal maneuvering over the rights to exploit the region's vast untapped hydrocarbon reserves.
Earlier this month Canada submitted a claim to the UN Commission on the Limits of the Continental Shelf to extend its sovereignty to include the North Pole.
Russia was the first country to submit territorial claims to the commission in a bid to show that the Lomonosov and Mendeleev Ridges are extensions of its continental shelf. If approved, Russia would gain 1.2 million square kilometers (460,000 square miles) of Arctic territorial waters.
© Sputnik
National claims to the Arctic shelf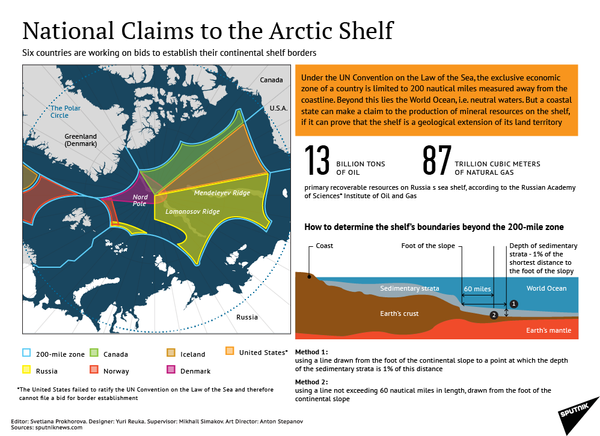 National claims to the Arctic shelf