WARSAW, December 20 (RIA Novosti) – The wreckage of a plane that crashed in Russia in 2010, killing Poland's then-president, Lech Kaczynski, will be handed over to Poland after the completion of a thorough investigation next year, Russia's top diplomat said Wednesday.
The investigation, carried out by Russian and Polish officials, has been extended until April 2014, Russian Foreign Minister Sergei Lavrov said in Warsaw after a meeting of a committee on Russian-Polish cooperation.
"We want this investigation to be really thorough so that no unresolved issues are left upon its completion," Lavrov said.
"It is especially important in light of the continuing hysteria around this tragedy," the minister said.
Lavrov added that Russian and Polish "competent bodies" had been discussing "technical and logistical issues related to the transportation of the debris from Russia to Poland."
The Russian-made Tu-154 passenger plane, carrying Kaczynski, his wife and a host of top officials, crashed in heavy fog as it attempted to land at an airfield near Smolensk on April 10, 2010.
The delegation was flying to Smolensk to mark the 70th anniversary of the 1940 Katyn massacre of thousands of Polish officers by Soviet secret police. All 96 people aboard the plane died.
© RIA Novosti
The plane crash that killed the Polish president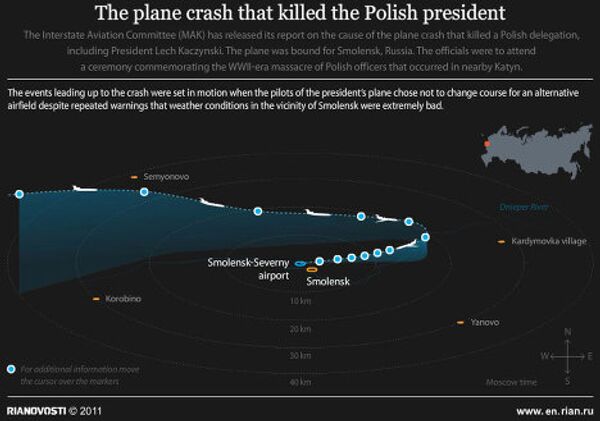 The plane crash that killed the Polish president
In its probe into the air crash, the Moscow-based Interstate Aviation Committee said the Polish flight crew was responsible for the accident. Poland, which carried out a separate investigation, partially blamed Russian air traffic controllers.