IZHEVSK, December 23 (RIA Novosti) – Mikhail Kalashnikov, the 94-year-old inventor of the world's most popular firearm, the AK-47, died Monday in a Russian hospital, a local government official said.
"We received sad news today: legendary small-arms inventor Mikhail Kalashnikov died at the age of 94 after a prolonged illness," Viktor Chulkov, a spokesman for the head of the Udmurtia republic, Kalashnikov's home region, wrote on Facebook.
Kalashikov had been recently admitted to an intensive care unit at a hospital in Udmurtia's regional capital, Izhevsk, while "in serious but stable condition," according to the local branch of Russia's Health Ministry.
In June, the famed weapons designer underwent an operation in Moscow to have a pacemaker implanted.
Kalashikov developed the concept of a reliable assault rifle for the Soviet infantry during the Second World War.
During his convalescence stay in Kazakhstan in 1941, he quickly produced a prototype version of his assault rifle at a local train depot workshop. Fine-tuning the experimental model took five years, and in 1946 it successfully passed the last of a series of firing tests.
"I was told that when Stalin was shown the AK-47 for the first time, he took it in his hand and didn't put it down while walking around his Kremlin office for the rest of the day," Kalashnikov wrote in his memoirs.
The AK-47 went into mass production in February 1947. In 1949, the weapon was adopted by the Soviet Army and Kalashnikov, then 30, was awarded the Stalin Prize. It was one of many awards he was to be given, including three Orders of Lenin and the Hero of Socialist Labor.
© Sputnik
The legendary Kalashnikov assault rifle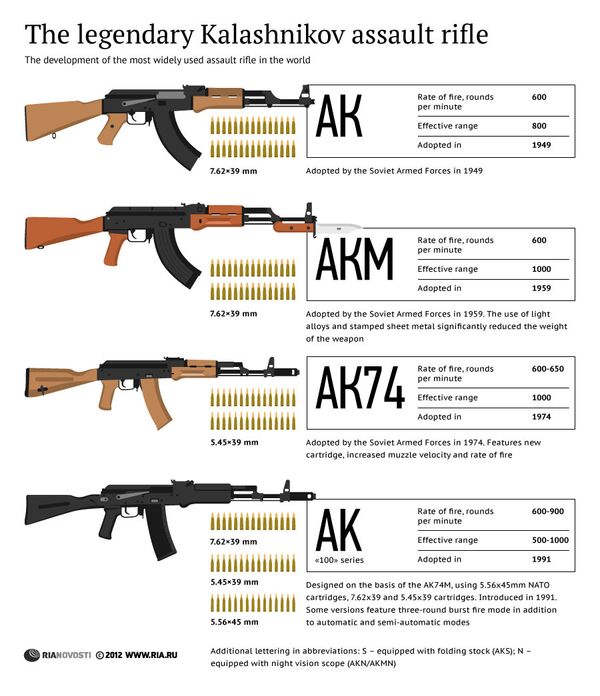 The legendary Kalashnikov assault rifle
An estimated 100 million AK-47s have been built worldwide since then, according to the Moscow-based Center for Analysis of Strategic and Technologies, or CAST. In comparison, about 7 million M-16 assault rifles have been made. The M-16 is the Kalashnikov's main Western rival.
More than a dozen modifications have been developed for the AK-47, including one with a curved barrel allowing tank crews to shoot around corners. That particular modification, however, never went into mass production.
The rugged, reliable and easy-to-use AK-47 is still favored by an assortment of armed forces, guerrilla groups, terrorists and even common thugs in at least 55 countries.
Mozambique put the gun on its national flag in 1975 when the FRELIMO Mozambique Liberation Front came to power after an 11-year independence war with Portugal, while Lebanon-based Hezbollah Islamic radicals regard the gun as a symbol of their struggle against the "infidels."
The derivatives of AK-47, which has a vodka and even a song named in its honor, are produced in about 30 countries, including Egypt, Bulgaria, China, Israel, the Netherlands, Finland, Sweden, South Africa and India.
© RIA Novosti/Avrora Alexei Bakulev, Sergei Razbakov
However, Russia insists that it suffers major losses from the counterfeit manufacture of Kalashnikov rifles in at least 15 countries, especially in Eastern Europe.
According to Kalashnikov producer Izhmash, Russia accounts for only 10-12 percent of the million Kalashnikov rifles sold globally every year, with the rest being unlicensed copies.
Updates with details on AK-47 development and use worldwide.