MOSCOW, December 23 (RIA Novosti) – The Russian Navy commissioned its second Borey-class nuclear missile submarine, Alexander Nevsky, into service Monday, a fleet representative said.
The Defense Ministry said last month the boat's acceptance would be delayed until next year following a mishap during a test-firing of a Bulava nuclear ballistic missile in September. The missile – developed specifically for the new Borey-class – has suffered a string of failures in tests and is still not operational according to a senior naval officer who spoke to RIA Novosti last month.
The Borey class, the Russian Navy's first post-Soviet ballistic missile submarine design, will form the backbone of the fleet's strategic nuclear deterrent force after older boats are retired by 2018. Russia expects eight of the boats to enter service by 2020.
The Alexander Nevsky was handed over to the Navy at a ceremony attended by Defense Minister Sergei Shoigu at the Sevmash shipyard in Russia's northern Arkhangelsk Region.
The third boat in the class, the Vladimir Monomakh, is currently undergoing acceptance trials and is expected to be commissioned in 2014. A fourth boat is now under construction at Sevmash.
© RIA Novosti
History of the Russian submarine fleet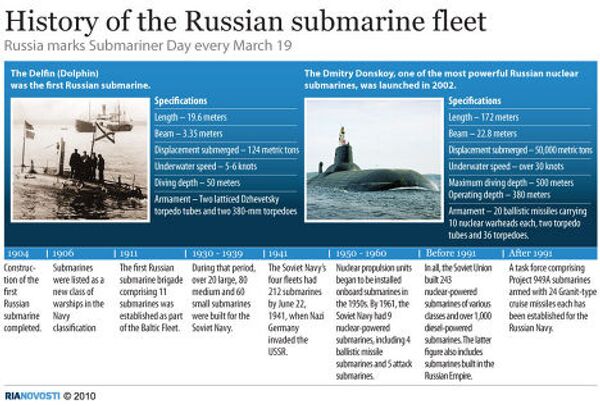 History of the Russian submarine fleet