MOSCOW, December 29 (RIA Novosti) – More than a dozen people were killed Sunday when a blast ripped through a railway station in the southern Russian city of Volgograd in what authorities say was an attack carried out by a suicide bomber.
If confirmed, the presumed attack will prove to have been the second in the city in the space of just a little over two months and will provoke deep anxiety as Russia readies to host the Winter Olympics in Sochi early next year.
Russia's Investigative Committee said 16 people were killed in the blast that occurred at 12:45 p.m. (0845 GMT) near the metal detectors at the front entrance to Volgograd-1 train station. A total of 14 people died at the scene and two others died at hospital.
A total of 44 people were injured and 37 of them have been hospitalized, a spokesman for Russia's Health Ministry said.
The blast occurred just 30 minutes before a train from Moscow was due to arrive at the station.
The remains of a suspected suicide bomber were discovered at the scene of the blast and will undergo DNA testing, spokesman Vladimir Markin said.
Several versions of the deadly attack are being investigated. One of them is that the attack could have been carried out by a man, Markin said. Local media reports said a male finger with a pin from a grenade was found at the scene.
Earlier reports said a female suicide bomber could have been behind the attack.
Oksana Aslanova, a native of Russia's North Caucasus Republic of Dagestan, and widow of a leader of a militant group, was named as a possible suspect, a local police source said. He added that the report has yet to be confirmed by officials.
The bomb contained 10 kg of TNT and was rigged with shrapnel, Markin said. An unexploded shell was also found at the blast scene and destroyed by bomb disposal experts, he said.
Among the injured is a nine-year-old girl whose mother shielded her with her own body at the time of the blast, city mayor Irina Guseva told reporters. The woman died at the scene and the girl is in a critical state.
Some victims are to be evacuated by the Emergency Situations Ministry by plane to Moscow, approximately a 90-minute flight away, for medical help.
The Emergency Situations Ministry has sent a plane to Volgograd carrying a team of 22 doctors and medical equipment to help the injured, presidential spokesman Dmitry Peskov said. Another plane with doctors and medical equipment is expected to fly to Volgograd at night.
© RIA Novosti
Potential Damage From a 1kg TNT Explosion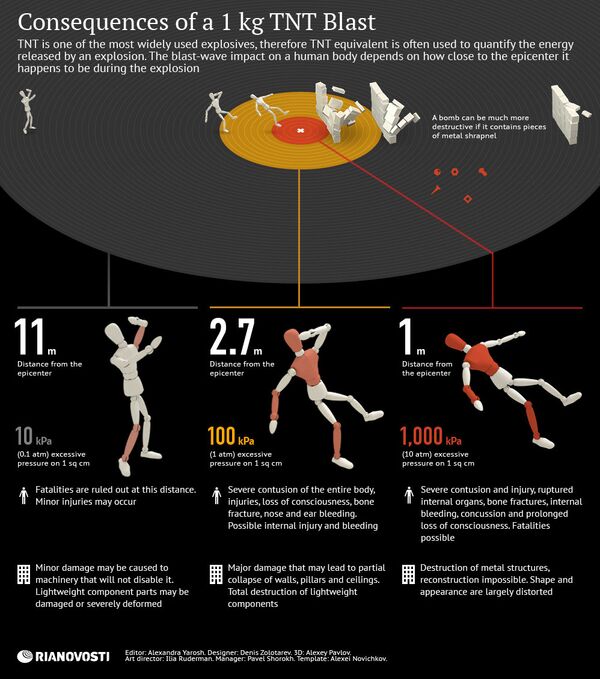 Potential Damage From a 1kg TNT Explosion
The National Anti-Terrorism Committee said that the explosion was caused by an unidentified device and that it was probably the work of a female suicide bomber. It did not speculate on who might be responsible.
Surveillance footage of the building's exterior posted online showed a massive fireball erupting within the train station's central hall, followed by clouds of smoke streaming out the windows.
One police officer was killed and six more were wounded as they worked nearby the entrance's metal detectors, the Interior Ministry said.
The policeman started moving in the direction of the suspicious woman and wanted to check her documents when the blast occurred, in which he was killed, the statement said.
President Vladimir Putin expressed regrets to families of blast victims Sunday. He ordered ministers and heads of law enforcement agencies to find those who were behind the explosion.
A mourning period will be observed over the first three days of next year to recognize the victims of the explosion. Security has been tightened at railroad stations in Volgograd and Moscow.
The attack has been condemned by leaders and organizations around the world.
NATO Secretary General Anders Fogh Rasmussen said in a statement: "There can be no justification for such barbarous attacks. NATO and Russia stand together in the fight against terrorism, including by working together on technology to prevent attacks on public transport systems. We will continue to cooperate to improve the safety of our citizens, and the security of our countries."
Terrorist incidents have persisted in southern Russia despite stated efforts by the authorities to step up security precautions ahead of the Winter Games starting in February.
The 2014 Winter Olympic Games in Sochi, opening on February 7, are major prestige project for Putin and Russia.
On Friday, a car bomb killed three people in the city of Pyatigorsk, which is 530 kilometers south of Volgograd and 270 kilometers east of Sochi.
In another attack in Volgograd in late October, six people were killed and 37 injured when a bomb carried by a young woman from the southern republic of Dagestan detonated while she was travelling on a crowded commuter bus.
The cities blighted by those attacks are located close to the North Caucasus, a multiethnic and volatile region that suffers near-daily attacks on officials, police and civilians by local militant groups.
The persisting violence has its roots in a separatist struggle in the unruly republic of Chechnya in the early 1990s that evolved into a ruthless Islamist insurgency that spread to neighboring territories. The bulk of the clashes have in recent years focused on Dagestan.
Most of the militants responsible for terrorist attacks in Russia over the last decade – including female suicide bombers who have taken part in 20 attacks claiming at least 780 lives since June 2000 – have come from this region.
Updates injuries, changes lead, adds details on possible attacker.