MOSCOW, December 30 (RIA Novosti) – A Russian federal lawmaker on Monday called for his country to reinstate the death penalty to eradicate terrorist conspirators after twin bombings killed nearly two dozen in the past two days.
Roman Khudyakov, who represents the nationalist LDPR party in Russia's lower house of parliament, said the initiative was spurred by the recent terrorist attacks in the southern Russian city of Volgograd.
He said the moratorium, established in 1996, should be lifted to punish those guilty of particularly grave crimes, such as terrorism and crimes against children.
Previously, the idea was voiced by another lawmaker in the lower house of parliament, Alexei Zhuravlyov of the ruling United Russia party.
The proposal was also supported by Taimuraz Mamsurov, who heads North Ossetia, a predominantly Christian republic in the North Caucasus that has been a magnet for terrorist attacks in the volatile region. North Ossetia saw one of the deadliest attacks in the history of modern Russia: the Beslan school siege.
Russian ombudsman Vladimir Lukin, in turn, urged Russians to "avoid hysterical calls for the death penalty" for organizers and perpetrators of the deadly blasts on Sunday and Monday that killed at least 21 people and injured more than 70.
© Sputnik
Major Terror Attacks of 21st Century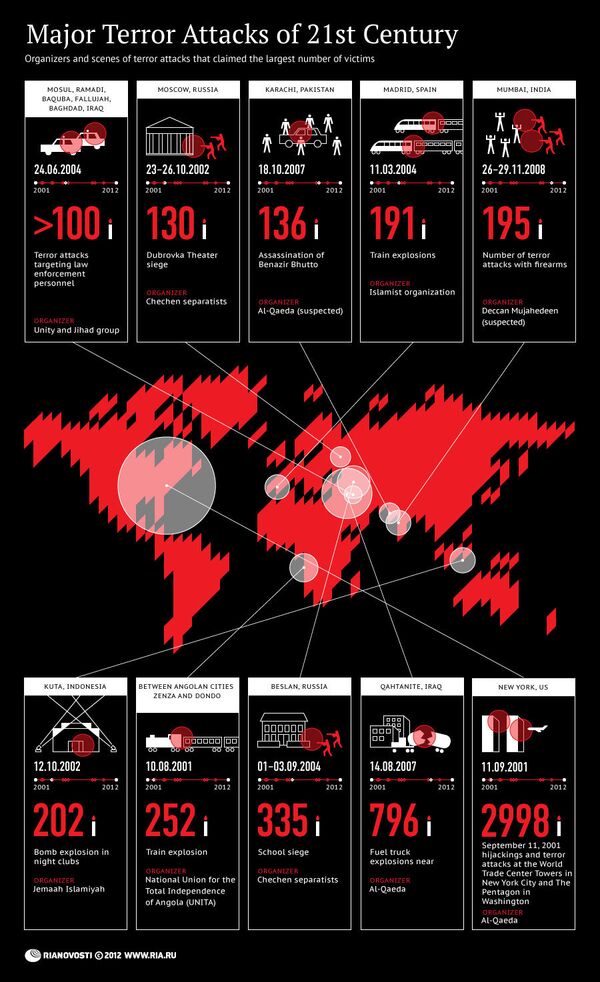 Major Terror Attacks of 21st Century