MOSCOW, January 3 (RIA Novosti) – Combat aircraft from Russia's Northern Fleet will extend the ranges of their patrol flights over the Arctic in 2014 using a network of revamped Soviet-era airfields, the fleet's spokesman said Friday.
"In 2014, the naval aviation of the Northern Fleet will significantly expand the geography of Arctic patrol flights, including with the use of the Temp airfield on the New Siberian Islands," Capt. 1st Rank Vadim Serga said.
Serga said the fleet's Tu-142 and Il-38 reconnaissance and anti-submarine warfare aircraft carried out over 30 patrol missions in the Arctic last year.
© Sputnik
Russian oil and gas fields in the Arctic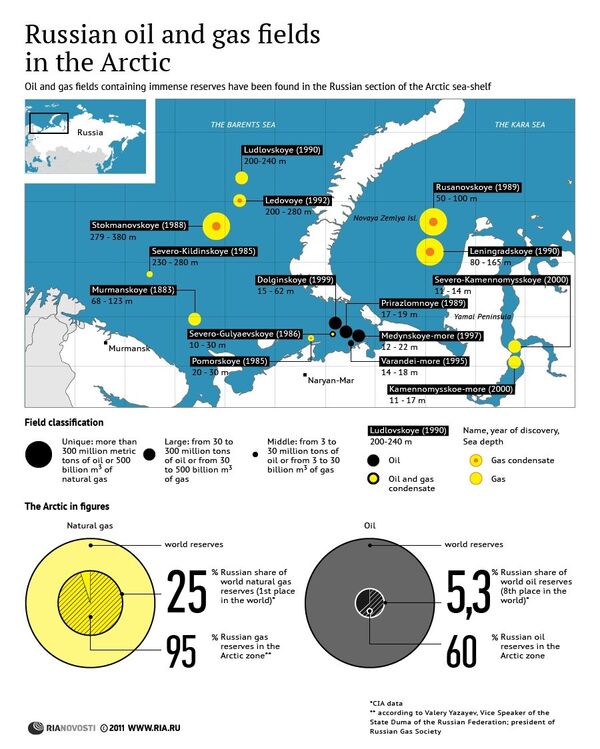 Russian oil and gas fields in the Arctic
As part of the ambitious program, the Russian military will reopen airfields and ports on the New Siberian Islands and the Franz Josef Land archipelago, as well as at least seven airfields on the continental part of the Arctic Circle that were mothballed in 1993.
Arctic territories, believed to hold vast untapped oil and gas reserves, have increasingly been at the center of disputes between the United States, Russia, Canada, Norway and Denmark as rising temperatures lead to a reduction in sea ice.
Russia has made claims on several Arctic shelf areas and is planning to defend its bid at the United Nations.