MOSCOW, January 10 (RIA Novosti) – A subsidiary of the Russian oil giant LUKoil has been slapped with a fine of 614 million rubles ($18.5 million), which Greenpeace said appeared to be the biggest such fine in Russia's history.
LUKoil-Komi was fined for nine oil spills from 2011 in Russia's northern republic of Komi, according to documents available on the republic's arbitration court website.
The spills covered an area estimated between 20.5 and 21 hectares of land in the province.
The verdict came into force in late December following a protracted legal battle, but only made headlines on Friday.
LUKoil-Komi's press service could not be reached for comment on Friday afternoon.
Greenpeace said on its website the oil company intended to appeal.
It also said LUKoil faced a separate lawsuit for 96 million rubles ($2.9 million) from the republic's forestry committee.
The privately-owned LUKoil-Komi spent 15 million rubles ($450,000) on recultivating the polluted land, but the court ruled it to be an insufficient measure.
The fine was the biggest of its kind in Greenpeace's experience, and apparently the biggest in the post-Soviet history of Russia's oil industry, a spokeswoman for Greenpeace Russia said.
© RIA Novosti
How oil spills endanger sea life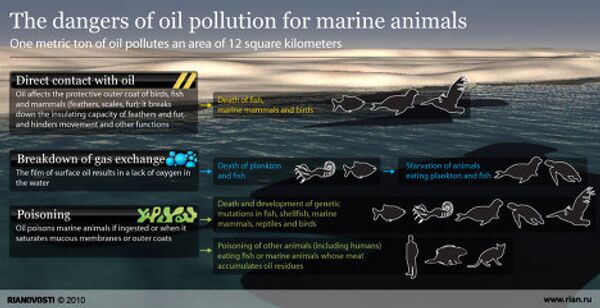 How oil spills endanger sea life
The previous record was made in 2012, when several companies were slapped by a Russian court with a combined fine of 503 million rubles ($15.1 million) over a tanker that spilled 1,200 tons of fuel oil in the Black Sea during a storm in 2007.