MOSCOW, January 17 (RIA Novosti) – The Russian military has formed a helicopter squadron to strengthen its air contingent at the Erebuni air base in Armenia, the press service of Russia's Southern Military District said Friday.
Russia's 3624th Air Base at the Erebuni airport in Yerevan currently hosts at least 16 MiG-29 Fulcrum fighter jets operating under the framework of air defense agreements concluded between the members of the Commonwealth of Independent States.
"The Russian air contingent [in Armenia] will be strengthened with Mi-24P attack helicopters, Mi-8MT and Mi-8SMV military transport helicopters, which will be used for ground support and transportation of the [Russian] troops deployed in Armenia," the press service said in a statement.
© RIA Novosti
Mi-24 attack helicopter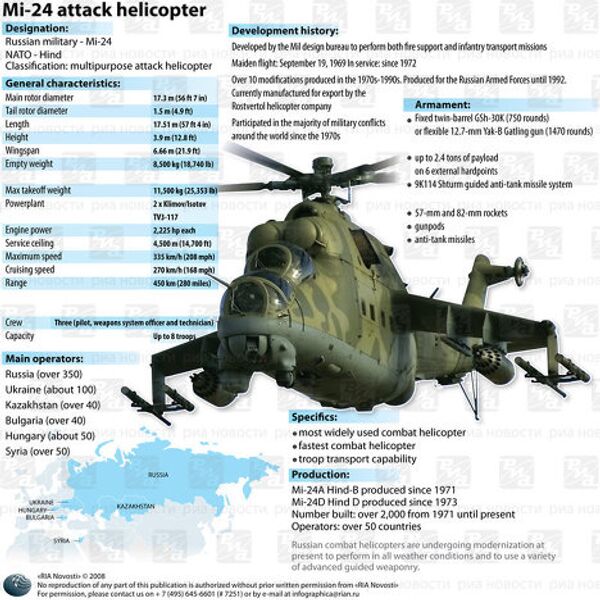 Mi-24 attack helicopter
The Mi-24P (Hind-F) is a gunship version of the famed Russian attack helicopter armed with a side-mounted 30-mm GSh-30K twin-barrel cannon, while the Mi-8SMV (Hip-J) is an airborne jamming platform with "Smalta-V" system, designed to protect ground attack aircraft from enemy air defenses.
The personnel of the squadron are undergoing specific training at an airbase in Rostov-on-Don.
The helicopters will be gradually deployed at the Erebuni base through 2014, the press service said.
Armenian Deputy Defense Minister Ara Nazaryan said in November last year that the Russian squadron at the Erebuni base would comprise 18 helicopters.
The Erebuni air base is part of Russia's 102nd military base located in Gyumri, near Armenia's border with Turkey.
The 102nd base has been deployed in Gyumri since 1995 under a bilateral treaty that was extended in 2010 from 25 to 49 years, ensuring a Russian military presence in Armenia through 2044.