MOSCOW, January 21 (RIA Novosti) – American military assets have been offered to bolster security for the upcoming Sochi Olympic Games scheduled to open in less than three weeks, the Pentagon said Monday.
"Air and naval assets, to include two Navy ships in the Black Sea, will be available if requested," press secretary Rear Admiral John F. Kirby said in a statement.
US commanders in the region are preparing for that eventuality, he added.
The announcement came as US lawmakers voiced concern over the safety of Americans attending the Games following twin bombing attacks that killed 34 people in the Russian city of Volgograd late last month.
On Monday an Islamic insurgent group with ties to Iraq claimed responsibility for the attacks.
Representative Michael McCaul, chairman of the House Homeland Security Committee, said from Moscow that he planned to inspect the security preparations in Sochi, the Associated Press reported Sunday.
The State Department has advised US travelers on its website to remain vigilant as the Olympic Games are a prime target for terrorists, while noting Russian officials have said they are taking "appropriate measures" in providing security.
Volgograd is considered a gateway to Russia's southern republics of Chechnya and Dagestan, which have been the center of an ongoing Islamic insurgency for the past two decades.
© RIA Novosti
Countries with greatest risk of terrorism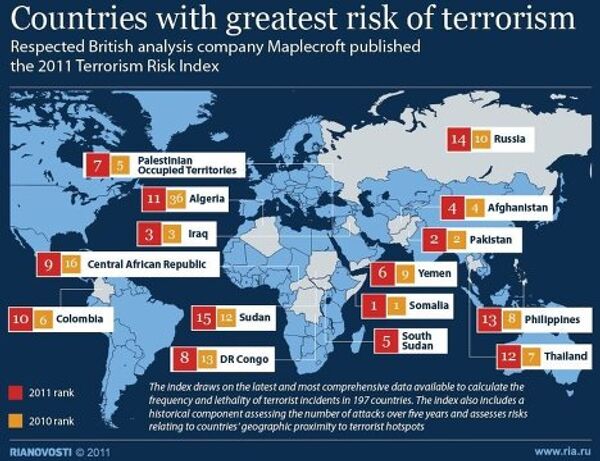 Countries with greatest risk of terrorism
Sochi lies about 200 miles (320 kilometers) from Chechnya and 300 miles (480 kilometers) from Dagestan.
Chechnya's Kremlin-backed leader, Ramzan Kadyrov, said last week that new information confirms that Doku Umarov, a prominent local warlord who had vowed to attack the Olympics, had died.
That conclusion is questioned by experts and was based on an intercepted discussion between two militants who mentioned his death.
Dagestan sees almost daily outbreaks of violence. On Friday a bomb and grenade attack at a restaurant in the republic's capital left five wounded. Ten militants were killed in a series of shootouts with law enforcement officers in the days following the attack.
Tamerlan Tsarnaev – who along with his brother Dzhokhar killed three and injured over 200 in a bombing at the Boston Marathon last April – spent several months in Dagestan in 2012, according to authorities, and had ties to local radical Islamic groups.