MOSCOW, February 6 (RIA Novosti) – Russia's new Yak-130 combat trainer will take part in demonstration flights at the Singapore Air Show next month, a government agency said Wednesday.
According to the Federal Service for Military and Technical Cooperation, Russia's United Aircraft Corporation will also showcase models of Su-35 and T-50 fighter jets as well as several civilian aircraft: the Sukhoi Superjet 100, MS-21 and Be-200.
The Yak-130 Mitten jet trainer/light attack aircraft is a subsonic two-seat aircraft developed by the Yakovlev design bureau.
It is a highly maneuverable plane with an extended range of about 2,500 kilometers (1,550 miles) and a maximum speed of 1,060 kilometers (600 miles) per hour in level flight. It can carry a combat payload of up to 3,000 kilograms (6,600 pounds), consisting of a variety of Russian and Western developed weapons.
© Sputnik
Pilot training aircraft Yak-130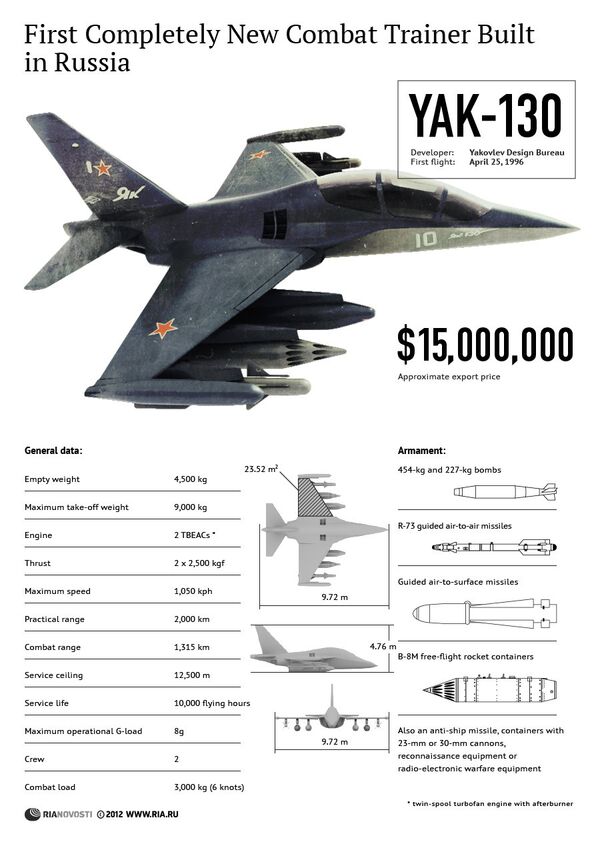 Pilot training aircraft Yak-130
In 2012, Russia was the world's second-largest arms exporter for the second year running, exporting $15.2 billion worth of weaponry while adding Afghanistan, Ghana, Oman and Tanzania to a list of about 80 other foreign customers.
Sales of aircraft traditionally account for about 40 percent of Russian arms sales abroad, according to government statistics.
The Singapore Airshow, Asia's largest aerospace and defense event, will be held on February 11-16 and host over 550 companies from 38 countries.