SINGAPORE, February 11 (RIA Novosti) – Russia's third aerobatics team will comprise 12 Yak-130 combat trainer jets, the Irkut aircraft maker said Tuesday.
According to Irkut president Oleg Demchenko, the company in December signed a contract with the Defense Ministry on the delivery of 12 Yak-130 aircraft to form a new aerobatics team.
"We will supply five planes in 2014, and the remaining seven – in 2015," Demchenko said at the Singapore Air Show where the Yak-130 is taking part in the demonstration flights program.
© Sputnik
Pilot training aircraft Yak-130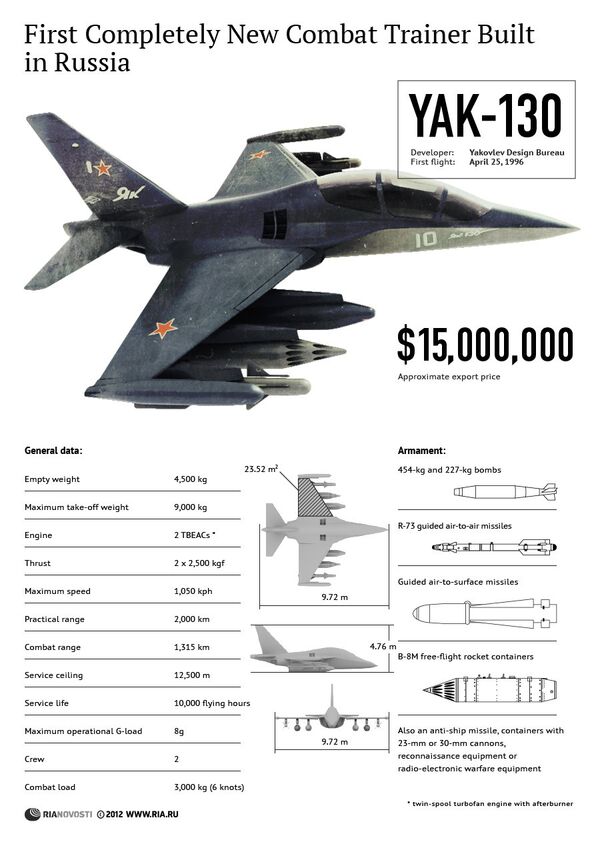 Pilot training aircraft Yak-130
The Yak-130 Mitten jet trainer/light attack aircraft is a subsonic two-seat aircraft developed by the Yakovlev design bureau. The first Yak-130s entered service with the Russian Air Force in 2009.
Russia currently has two aerobatic teams – Russkiye Vityazi (Russian Knights) with a fleet of four Sukhoi Su-27P and two Sukhoi Su-27UB Flanker fighter aircraft, and Strizhi (Swifts) who fly six MiG-29 Fulcrum fourth-generation fighter jets.