MOSCOW, February 12 (RIA Novosti) – Russia's Spektr-R telescope has been named the largest orbital radio telescope by Guinness World Records.
The telescope, with a diameter of 10 meters, was launched in July 2011 from the Baikonur space center in Kazakhstan.
"The [Guinness] certificate is the result of the scientific success of the Spektr-R project, which has been confirmed by the outcome of its work in orbit published in the Journal of Astronomy," Russia's Lebedev Physics Institute said Wednesday.
Spektr-R, also known as RadioAstron, is used in conjunction with ground-based observatories to make ultra high-resolution radio-astrophysical observations of galaxies, black holes and cosmic rays, as well as to study the characteristics of near-Earth and interplanetary plasma.
© RIA Novosti
Russia's RadioAstron space observatory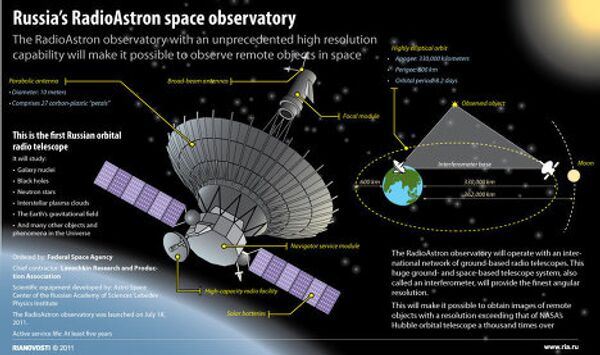 Russia's RadioAstron space observatory
The development and implementation of the Spektr-R project marked the revival of Russian satellite-assisted astrophysical research, largely underfunded and neglected after the collapse of the Soviet Union.