SOCHI, February 22 (R-Sport) – Viktor Ahn set the Sochi ice alight on day 14 of the Olympics, winning two gold medals in the space of an hour for his adoptive home of Russia.
As street violence continued at home, Ukraine's biathlon team won a poignantly timed victory marked with a minute of silence, while Mikaela Shiffrin became the youngest Olympic slalom champion and Canada dominated hockey and curling.
Less than an hour after winning Sochi Olympic short track gold in the 500 meters, Viktor Ahn led Russia to victory in the 5,000-meter relay to round off an incredible night's action for the home crowd at the Iceberg Skating Palace.
The Russian lineup of Ahn, Vladimir Grigorev, Semen Elistratov and Rulan Zakharov posted a winning time of 6:42.1 minutes, crushing the Olympic record.
The United States claimed silver, 0.271 seconds back, while China got the bronze a full six seconds adrift after 500m silver medalist Wu Dajing fell at the very start of the race.
The result rounded off a barely believable evening in his adopted home nation for Ahn. The 28-year-old, who previously competed for South Korea, looked down and out of the 500 meter race after a terrible start, but overtook two skaters as a third crashed out to claim a fifth short track gold medal.
© RIA Novosti
Prize Money for Sochi Olympic Medalists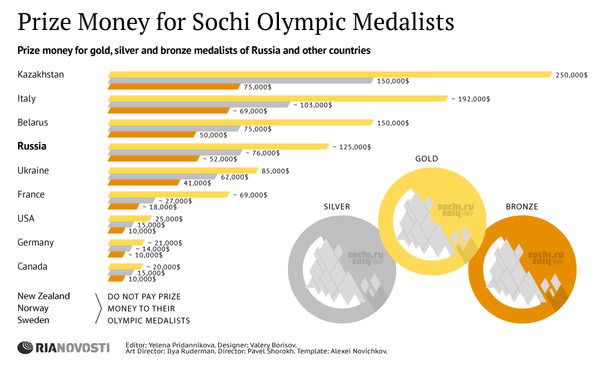 Prize Money for Sochi Olympic Medalists
After winning their country's first Olympic gold medal in 20 years in Sochi, Ukraine's women's biathlon relay team held a minute's silence in memory of the dozens killed in anti-government protests back home.
Twin sisters Vita and Valj Semerenko, Juliya Dzhyma and Olena Pidhrushna raced to their country's first-ever biathlon gold and first top prize at any Olympics since Oksana Baiul's figure skating gold in 1994 earlier Friday. Russia won silver, and the bronze went to Norway.
Before giving a news conference, the quartet observed a minute's silence in memory of at least 80 people killed over the last few days in the center of Kiev.
"We dedicate this victory to the whole of Ukraine," said Pidhrushna. "Despite everything that's happening at home, we went out to the start line with the intent of performing as we are able to."
On the slopes, Mikaela Shiffrin of the United States blew away the opposition to win the Olympic gold medal in the women's slalom on Friday night, becoming the discipline's youngest-ever winner.
Shiffrin, 18, could even afford a big slip half way down a slushy Rosa Khutor course on the decisive second run, going on to clinch her first Winter Games medal by a comfortable 0.53 seconds.
"It's one of the most special days of my life," said Shiffrin.
"I'm not really sure that this is reality right now. ... As I was on the chairlift going up for the second run I started to tear up and think 'this actually might happen,'" she said, calling the slip "pretty terrifying."
The silver went to Austria's Marlies Schild, who takes home the same medal she did four years ago in Vancouver behind Maria Hoefl-Riesch.
Sunday's men's hockey gold medal game, the blue ribbon event of the Winter Olympics, will pit Canada against Sweden on a golden day for the Canadians, who also won gold in curling and skicross.
Jamie Benn scored the only goal of Friday' semifinal to fire Canada past the United States 1-0 on Friday and into the men's hockey final at the Sochi Olympics. The Americans will play Finland for the bronze Saturday after Sweden beat the Finns 2-1.
© RIA Novosti
Sochi Olympics Medal Count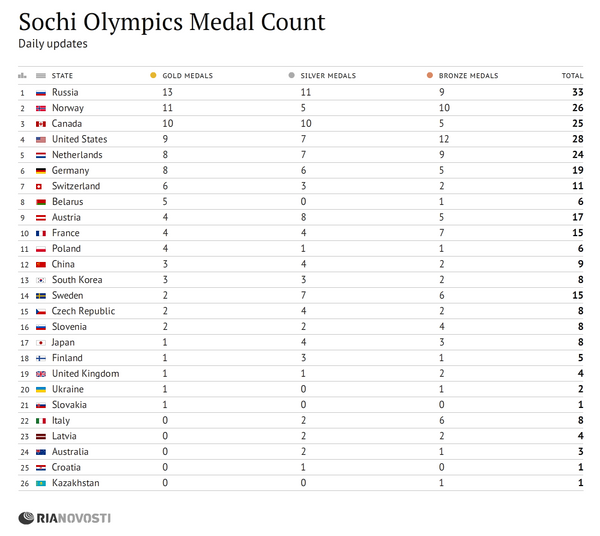 Sochi Olympics Medal Count
Canada completed double gold in curling as Brad Jacobs' men's team mauled Britain 8-3 to follow up on gold for Jennifer Jones' rink in the women's competition a day earlier. Sweden beat China 6-4 for men's bronze.
Marielle Thompson won gold and Kelsey Serwa the silver for Canada in the women's skicross final. World silver medalist Thompson, took an early lead at the Rosa Khutor Extreme Park and didn't relinquish it to claim a second straight gold in the event after Ashleigh McIvor won in Vancouver 2010.
Kelsey Serwa, a 2011 world and X-Games gold medalist, stayed in her compatriot's slipstream for most of the icy run for the silver, while the bronze went to Sweden's Anna Holmlund, a former world bronze medalist.
In the women's 1,000m short-track final, South Korea's Park Seung-Hi collects a fifth career Olympic medal after speeding around the Iceberg Skating Palace in a time of 1 minute, 30.761 seconds.
Two-time world champion Fan Kexin of China made a desperate lunge for the line and even tried to grab Park after the final bend, but had to settle for silver in 1:30.811. The bronze went to another South Korean, 17-year-old Shim Suk-hee, who timed 1:31.027 to add the medal to her 1,500m silver.
Away from competition, the specter of doping again haunted the Olympics as two athletes were confirmed to have failed drug tests.
The pair are German biathlete Evi Sachenbacher-Stehle, who was fourth in the women's 12.5km mass start on Monday, and Italian bobsledder and former decathlete William Frullani. Both have been sent home pending formal disciplinary hearings.
On Saturday, medals are on offer in men's slalom, men's 4x7.5km biathlon relay, women's 30km cross-country skiing, men's and women's long-track speedskating team pursuit and men's and women's snowboard parallel slalom.
Norway remains top of the medals table with 10 gold medals, four silver and eight bronze. In second place is Russia, while Canada is in third.