SOCHI, February 24 (R-Sport, David Nowak) – As the 22nd Winter Olympic Games came to a close on Sunday, one shocking realization set in. Sochi had just served up a textbook Games.
The doomsday scenarios bandied about by some before the Games – terrorist attacks, disruption from protests, bad weather forcing schedule changes – all failed to materialize during the competition.
Instead, attention turned to the captivating battles on snow and ice over 15 mostly sun-drenched days on the Black Sea coast.
That, perhaps, is Russia's biggest victory. Superseding even the host nation's achievement of topping the medal table for the first time since 1994 with a record 33 medals.
"What for me is most important is what the athletes are thinking about these Games ... and I have to tell you there was not a single complaint by any of the athletes," said IOC chief Thomas Bach, presiding over his first Games since his election in September.
"I think all the systems here were working extremely well, from transportation to security over the Olympic villages, the food and everything, really excellent."
Some will say that for $51 billion – what Russia spent on hosting its first Winter Games, with all infrastructure thrown in – anything less than excellent begins to feel unacceptable.
Nevertheless, in the arenas and on the slopes, records tumbled amid glorious victories and crushing defeats, creating living legends and destroying careers almost on a whim. There were terrible injuries, doping scandals and debatable calls – all pretty much par for the course in a modern Olympic Games.
Foreign Victors; Russian glory
The host nation's athletic accomplishments must have exceeded even President Vladimir Putin's expectations.
Following the unprecedented disappointment of coming 11th with just three gold medals four years ago in Vancouver, Russia achieved its best ever result in Sochi, winning 13 gold medals and 33 total.
The last victory was earned by the country's opening ceremony flag-bearer Alexander Zubkov, who won his second gold of the Games in the four-man bobsled competition.
"The team has exceeded the plan. The rest isn't important. I congratulate everybody," Sports Minister Vitaly Mutko said.
Ahead of the Games, Mutko said he would accept any result for Russia, while last June his ministry set a target of finishing in the top three in the medal table.
Viktor Ahn
© RIA Novosti . Grigory Sissoev
/
Russian Olympic Committee president Alexander Zhukov said in 2012 that "we have a task to come first," but softened his line later on, declining to set a formal medal target for the host team.
Nearly half the Russian golds were won by two imports named Victor, making them winners in name as well as in deed.
US-born snowboarder Vic Wild won both the regular and giant parallel slalom for two golds, while ex-South Korean athlete became short-track speedskating's greatest ever male competitor with three golds in Sochi.
Vic Ivan Wild
© RIA Novosti . Alexei Danichev
/
The reliance on imported talent forced Mutko to issue denials that Russia wanted to conquer the sports world by handing out passports.
"There's no target to achieve hegemony in sport by means of naturalization," Mutko said. "There will be no total naturalization. We will compete using our own potential."
A nice side-story to the Wild victory was that his wife, Alena Zavarzina – the person who persuaded him to represent Russia – won a bronze in the women's parallel giant slalom.
Russia's best sport was figure skating, in which the country garnered three gold medals from the inaugural team event, from Tatiana Volosozhar and Maxim Trankov in the pairs and from Adelina Sotnikova in the women's singles.
Sotnikova had to defend her skate in the free program, which some observers claimed got generous marks to aid her defeat of reigning champion Kim Yuna of South Korea.
The fallout from that took the heat off Evgeny Plushenko, who took Russia's only slot in the men's competition only to withdraw at the last minute with a back injury.
It also distracted Russian fans from the failure of 15-year-old Julia Lipnitskaia in the individual event after winning both her programs in the team skate. A gold medal contender for many, Lipnitskaia finished fifth.
Speedskating – who finished fourth?
That was the only relevant question at many of the long-track speedskating events at Adler Arena, where Dutch racers claimed a world record four podium sweeps and eight gold medals – an astonishing 23 of any color.
The team of Ireen Wust, Jorien Ter Mors and Marrit Leenstra had two Sochi gold medals and three silvers between them even before winning Saturday's team pursuit, a victory makes Wust the country's most successful Winter Olympian in history with eight medals. 
Other gold medalists included Sven Kramer, who clinched back-to-back titles in the men's 5,000m and led the first Dutch sweep of the Games, Michel Mulder in the men's 500m and Stefan Groothuis in the men's 1,000m.
Biathlon, Bjoerndalen and Belarus
Ole Einar Bjoerndalen, 40, cemented his reputation as the king of biathlon, becoming the most decorated Winter Olympian of all time on Wednesday after helping his country to gold in the mixed relay for his record 13th Olympic medal.
Bjorndalen became the oldest male individual gold medalist in Olympic history when he won the 10km sprint earlier in the Games. Since then, he had twice come painfully close to adding to that tally in Sochi. First he missed the podium in the pursuit by less than a second and then missing four shots at the last shooting stage when on course to fight for gold in Tuesday's mass start.
Wednesday's medal took him up to a world record 13 in a glittering career that began at Lillehammer in 1994, taking him past his countryman and cross-country skiing great Bjoern Daehlie, with whom he had tied it at 12.
It is Bjorndalen's eighth career Olympic gold medal, taking him level with Daehlie on that count.
He missed out on the record in spectacular fashion on Saturday, when Russia surged to the men's relay gold after Bjoerndalen's teammate, Emil Hagle Svendsen, missed twice at the final shooting while out in front. Some commentators have since said he put his own ninth career gold in jeopardy, inheriting a lead of more than 20 seconds on the third leg that shrunk to just 5 seconds when he passed over to Svendsen. He has since ruled out appearing at the next Games in Pyeongchang.
Meanwhile, Darya Domracheva became Belarus' most successful Olympian of all time on Monday with victory in the biathlon 12.5km mass start, her record third gold medal of the Sochi Winter Games.
Domracheva, who won the pursuit and individual races, relied on her searing pace to win – a missed shot on the last shooting stage blotting an otherwise flawless performance from the 27-year-old. She replaces double gold-winning rower Ekaterina Karsten as the most-decorated Belarusian Olympian of all time and also becomes the first woman to win three biathlon golds at the same Games.
"It's amazing to be here because I dreamed about it, to be an Olympic champion, from my childhood," Domracheva said. "But to get three. Dreams do come true."
Caught out
© RIA Novosti
The Whats and Whys of Doping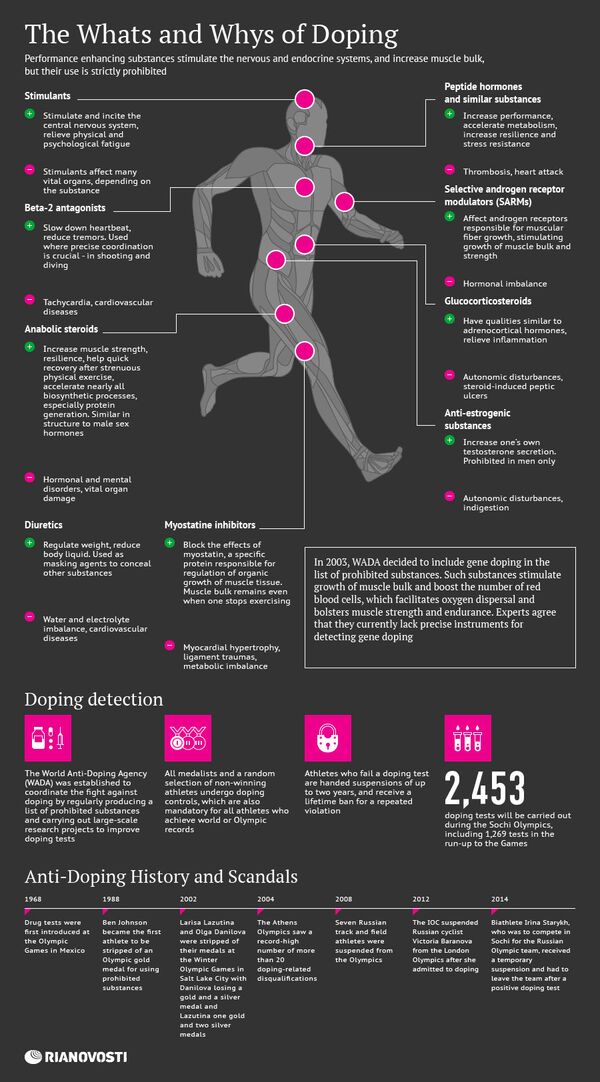 The Whats and Whys of Doping
Two athletes were suspended from the Sochi Olympics on the final day of the Games after testing positive for banned substances, taking the number of suspected doping cases at the Games to five.
Austrian cross-country skier Johannes Duerr's expulsion was confirmed hours before he was due to compete in the men's 50km, while the case of Latvian hockey player Vitalijs Pavlovs was announced during the night.
Duerr was stopped from competing after testing positive for blood-booster EPO, a drug that has often been used by endurance sport athletes, the international ski federation said.
If his expulsion is officially confirmed, he will lose his eighth-place finish in the men's skiathlon. It is the third doping case in cross-country skiing at the Sochi Olympics.
Pavlovs was part of the Latvian hockey team that surprised observers by reaching the quarterfinals.
He has been expelled from the Games, but his positive test for the stimulant methylhexaneamine does not yet affect the results of his team, pending an International Ice Hockey Federation investigation. The 24-year-old plays club hockey for KHL team Dinamo Riga.
There has been a late flurry of doping cases at the Games, with a total of five athletes announced to have tested positive since Friday.
The others are German cross-country skier Evi Sachenbacher-Stehle, Italian bobsledder William Frullani and Ukrainian cross-country skier Marina Lisogor, all of whom have been sent home.
The final hockey gold medal match between Canada and Sweden was followed by reports that Nicklas Backstrom had failed a doping test and was stopped from playing at the last minute after his participation had already been announced.
Stray packs and whining hacks
For many of the 3,000-plus journalists arriving for the Games, Sochi was a failure as soon as they moved into their accommodation.
Some R-Sport staff arriving at their designated accommodation inside the Olympic Park on February 5 found their rooms all but finished, with any outstanding issues mainly cosmetic.
Other media reported brown water running from hotel room taps and builders still inside the complexes working on unfinished rooms.
Some reporters, hundreds of whom had made the long-haul flight from North America, turned up to find none of their rooms ready and waiting hours to be housed.
Their hotel compounds, meanwhile, were regularly graced by roaming stray dogs, initially a source of revelry that turned serious when it transpired authorities were reportedly trying to have them all destroyed.
There were reports of companies being hired to continue killing the dogs throughout the games, and of philanthropists offering to set up shelters to save them; while some athletes expressed the desire to adopt them.
Komissarova's fall
Of all the injuries suffered at the Sochi Games, the worst befell Russian skicross racer Maria Komissarova, who broke her back in a training crash last Saturday.
© RIA Novosti . Михаил Климентьев
 / Go to the mediabank
Vladimir Putin visits Maria Komissarova in the hospital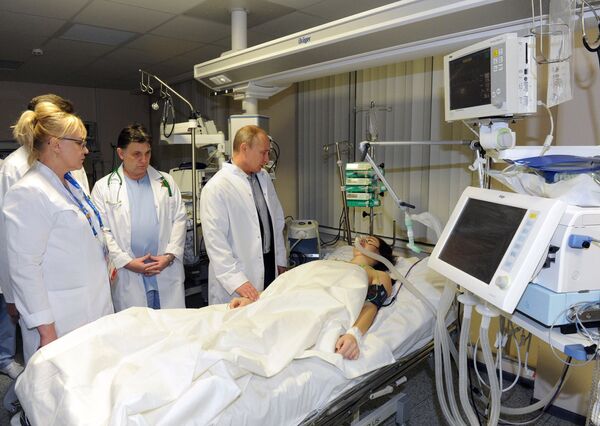 Vladimir Putin visits Maria Komissarova in the hospital
© RIA Novosti . Михаил Климентьев
/
The 23-year-old is recuperating in a Munich hospital from multiple operations after being airlifted there following emergency surgery near the slope at a Krasnaya Polyana clinic.
Komissarova sustained a fractured vertebra with dislocation after a crash at the PSX Olympic skicross venue at Rosa Khutor Extreme Park.
The Russian Freestyle Federation said in a website statement on Friday adding that German doctors "have ascertained a certain positive dynamic in Maria Komissarova's condition."
Russian President Vladimir Putin visited Komissarova in hospital near Sochi on Saturday.
Earlier in the Games, a bobsled struck a track worker at the Olympic course, leaving him needing surgery on two broken legs. The unidentified worker was on track during a training session at the time of the collision, which involved a forerunner sled used to test the track outside competition times.
There was also tragic news related to next month's Paralympics: Australian para-snowboarder Matthew Robinson died as a result of injuries sustained in a crash, the Australian Paralympic Committee said Friday.
Last week Robinson, 29, suffered neck and back injuries in a race accident at the IPC World Cup Finals in La Molina, Spain, and underwent surgery in Barcelona. After spending eight days in hospital, he was being flown to Melbourne when he suffered a cardiac arrest and died.
Russian hockey fail
The one blotch on the Games – and it's a big one – was the unmitigated flop of the national men's hockey team, which was packed with the cream of NHL talent and tasked with a first gold since Soviet times.
In a tournament won by Canada, Russia crashed out in the quarterfinals Wednesday with a 3-1 defeat to Finland.
"It's all bad," Russian forward Alex Ovechkin said. "We started well, scored a goal, but several mistakes cost us the game. We tried to score but just couldn't do it."
The men's hockey tournament is the highest-profile Winter Olympic event in Russia and expectations were high for the host nation – Putin, himself a noted hockey fan, called the team "the best" in the competition on Monday. Russia last won a medal in hockey with bronze at the Salt Lake City Olympics in 2002.
The immediate blame for the Russian defeat fell on goaltender Semyon Varlamov, who came to Sochi on the back of red-hot performances in the NHL but was at fault to some extent for each of the three Finnish goals.
Russia's tournament started with a solid but unspectacular 5-2 win over Slovenia, followed by a 3-2 shootout loss to the United States that many hailed as an instant classic. Problems followed with a 1-0 shootout win over a struggling Slovakian team in the final preliminary game.
In the first round of the playoffs, Russia was slow to break down Norway's determined team and worryingly passed 100 minutes without a goal, dating back to the US game, before finally scoring and heading to a 4-0 win.
The quarterfinal exit may cost the job of Russian coach Zinetula Bilyaletdinov, who led Russia to the 2012 world championship title in his first major competition in charge, but also oversaw a pounding by the US in last year's world championship quarterfinals.
Medals, medals, medals
© RIA Novosti
Sochi Olympics Medal Count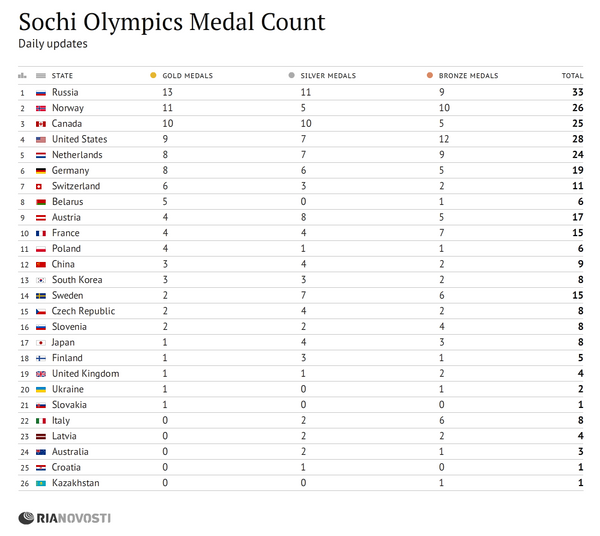 Sochi Olympics Medal Count
The final medal table was easy on the eye for Russian officials:
Russia ended up on top with 13 golds, 11 silver and nine bronze. Norway was second with 11 golds, five silver and ten bronze; and Canada was third with 10 gold, 10 silver and five bronze.
The United States, Netherlands and Germany rounded out the top six.
The next Winter Games are in Pyongchang in 2018; with the next summer edition in Rio de Janeiro in 2016.