SOCHI, February 23 (R-Sport, James Ellingworth) – At an Olympics designed to advertise Russia's resurgence on the world stage, the host nation's athletes played their part masterfully.
Russia exceeded all expectations at its home Olympics by topping the medal table for the first time in 20 years.
In the process, it laid to rest the failure of Vancouver 2010, when it won just three golds in a performance universally denounced as a national disaster.
"The team has exceeded the plan. The rest isn't important. I congratulate everybody," said Sports Minister Vitaly Mutko, the man who had overseen Russia's return to the winter sports elite, pumping money into training programs and handing passports to foreign stars.
First place in the Sochi medal table was secured in fitting style with a Russian 1-2-3 in the men's 50km cross-country skiing Sunday. In a sprint finish, the home trio beat Martin Johnsrud Sundby of Norway, the only other country that could have caught Russia at the top.
© RIA Novosti . Mikhail Mokrushin
 / Go to the mediabank
Closing Ceremony of the 2014 Sochi Winter Olympics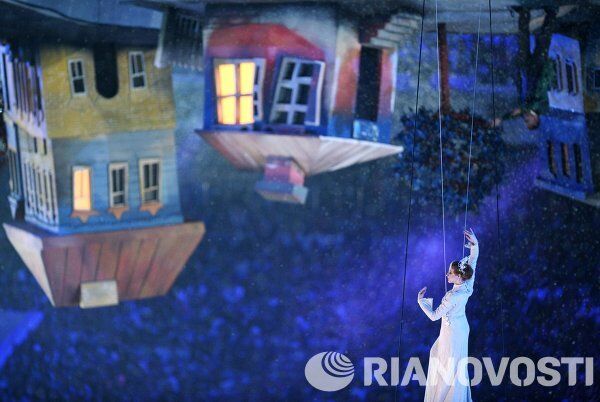 Closing Ceremony of the 2014 Sochi Winter Olympics
© RIA Novosti . Mikhail Mokrushin
/
That fairytale ending had seemed all but impossible a week into the February 7-23 Games, when Russia languished in the lower reaches of the medal table with two gold medals, both in its traditional stronghold sport of figure skating.
Then everything changed.
Short-track speedskater Viktor Ahn, newly naturalized from South Korea, won a gold medal that epitomized Russian sport's new order. Then Alexander Tretiakov won the men's skeleton, starting a haul of three gold medals in sliding sports, none of which had previously seen a Russian champion.
Russia shot up the standings as the final eight days of competition saw 11 host nation wins for a final tally of 13 gold medals, 11 silver and nine bronze, the total of 33 surpassing all previous Russian or Soviet totals.
Ahn was the standout star in his first Olympics since switching to Russia and changing his given name from Hyun-Soo to Viktor, all the better to symbolize his desire to jump-start his flagging career and win again.
© RIA Novosti
Sochi Olympics Medal Count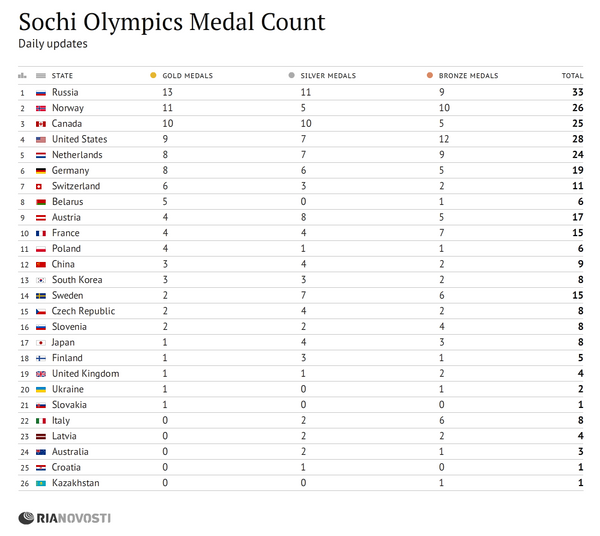 Sochi Olympics Medal Count
Ahn did just that, making a world-beater out of the little-known Russian short-track program, which had never before won a medal. He leaves Sochi with three gold medals in the 500m, 1,000m and 5,000m relay, the last a team success which hints at a strong pool of short-track talent for Russia for years to come.
Unlike Ahn, already a triple gold medalist for South Korea, Russia's other main foreign-born star, Vic Wild, was a virtual unknown before the Games. Frozen out at home in the United States by the lack of funding for Alpine snowboarding, Wild took the nationality of his Russian wife Alyona Zavarzina and received resources that enabled him to power to two gold medals in Sochi.
Asked how Russia had helped him, Wild said: "My board here, this golden plate [his medal], the bindings, outfit, helmet."
"They take care of everything for me. They just expect me to get some results," he said.
There was extra success for Wild's family as Zavarzina won a bronze in women's parallel giant slalom an hour before her husband's first victory.
The hosts cleaned up at the Sanki Sliding Center as well, bobsled pilot Alexander Zubkov claiming gold in the two-man and four-man events after Tretiakov's skeleton win.
Russia remained strong in its more traditional sports, picking up three gold medals in figure skating. Veteran Evgeny Plushenko and 15-year-old Julia Lipnitskaia combined to propel Russia to victory in the new team event, before pairs gold for world-record holders Tatiana Volosozhar and Maxim Trankov. There was a dose of controversy at 17-year-old Adelina Sotnikova beat reigning champion Kim Yuna of South Korea, sparking a dispute over judging that caused over 1.5 million people to sign a petition of protest.
The Laura Biathlon and Ski Complex was the venue for wild celebrations Sunday as Alexander Legkov led home a Russian trio for the 50km cross-country victory that sealed the medal table top spot, and a day earlier it saw Russia's men's biathlon team win their relay event.
Amid all the success, there were also some disappointments.
By the far the most popular winter sport in Russia is hockey, making the quarterfinal defeat of the men's national team something of a scandal.
The 3-1 loss came after a string of disappointing performances, including a heated loss to the United States in the preliminaries. Recriminations look set to carry on long after the Games end – coach Zinetula Bilyaletdinov invited journalists to "eat me alive" after the game.
Russia entered a bout of national soul-searching after injury-stricken Plushenko was forced to withdraw from the men's figure skating, leaving Russia without an entrant in one of the Games' most prestigious events. In speedskating, Ivan Skobrev came to Sochi hyped as a contender for multiple gold medals, but left empty-handed and apparently on the verge of retirement.
After Russia suffered a London Olympics marred by doping violations, there was refreshingly little scandal for the host nation in Sochi. The ejection of Ekaterina Starykh from the biathlon team before the Games was the only failed drug test for a Russian athlete around the Olympics.
The triumph in Sochi is also a vindication for the heavily state-controlled Russian sport system, which was in crisis only four years earlier following the failure in Vancouver. The system, with its tight state control of coaches and sports federations, mirrors the "power vertical" philosophy behind President Vladimir Putin's time in power, which brought Russia the Sochi Olympics.
The message sent by hosting the Games was unmistakable – Russia is back. The medal table shows Russia's athletes are too.