SOCHI, February 22 (Kristen Blyth, RIA Novosti) – What do you get when you cross 3,000 of the world's fittest athletes in a strange city with free alcohol and smartphones? Evidently, a lot of people revved up on hormones looking for ways to link up with fun-loving new friends.
As the Winter Games ground on this month, many of the world-class athletes in Sochi's Olympic Village – where alcohol flowed free of charge – found themselves with a lot of free time on their hands. Enter Tinder, a social-networking application that connects users near the same location who find each other attractive – be it for companionship, casual flirting, or more.
American snowboarder Jamie Anderson acted as unofficial spokeswoman for Tinder when she told journalists earlier this month that the app was of exceptionally high quality in Sochi.
"Tinder in the Olympic Village is next level," she laughed in an interview with Us Weekly. "It's all athletes! There are some cuties on there."
Though Anderson ultimately deleted her account "to focus on the Olympics," journalists – many undoubtedly learning of Tinder's existence thanks to her comments – jumped to report on the mobile app, which only fueled its burgeoning popularity in Sochi.
"I decided to give it [Tinder] a shot after reading an article online," said Kevin Coyne, an American visiting the Olympic host city to watch his sister compete for the US in ice hockey. "I figured I'd be able to find some Americans who have some good stories from the Olympics."
Meeting new people on Tinder, which launched in 2012 and won Best Startup last year at the Crunchies technology innovations awards, is simple. After setting up a personal profile comprising a photo (or several), first name and age, users are presented with profiles of other people within a few-mile radius of their location.
© RIA Novosti . Evgeny Biyatov
 / Go to the mediabank
Best Photos of Athletes Preparing for the Sochi Olympics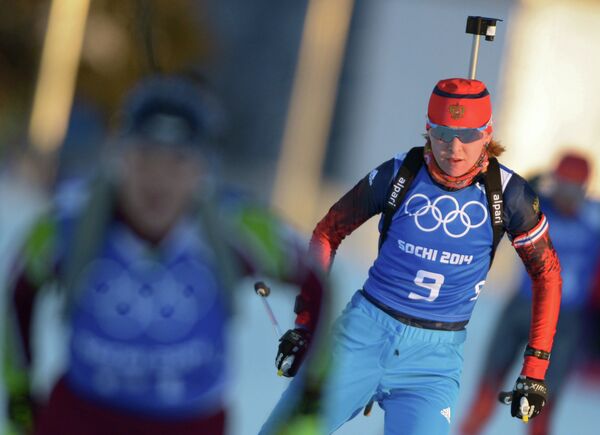 Best Photos of Athletes Preparing for the Sochi Olympics
© RIA Novosti . Evgeny Biyatov
/
Swipe the person's picture to the right if you like their look, swipe left if you don't – and another profile pops up immediately, in what becomes a seemingly endless stream of photos of strangers.
Tinder plays matchmaker when two people like each other's photos, linking them to a private chat room where they can get to know what's behind the other's exterior. The app's settings are adjustable to filter searches by age, gender and distance.
Flicking through Tinder pictures in Sochi, for some users, rapidly descended into a hunt for Olympic athletes. "I'm just screen-shotting all of them [the athletes]," said Edward, explaining that he was a blogger collecting screen captures of Olympians on Tinder for a sports website. (He asked for his last name not to be printed because of the ethical dubiousness of publishing athletes' photos without permission.)
Edward, however, wasn't alone. The blog sochiontinder.tumbler.com has collected what it says are photos from the Tinder profiles of some 150 competitors at the Sochi Winter Games.
As it turned out, many of the Olympians themselves were hunting for other athletes on Tinder.
"It has been a unique way to get together groups of athletes from different countries," said a European bobsled racer who asked to remain anonymous.
Most of the athletes didn't use Tinder seriously as a dating application, said another Olympian who asked to be identified by his nickname, Murphy.
© RIA Novosti
Sochi Olympics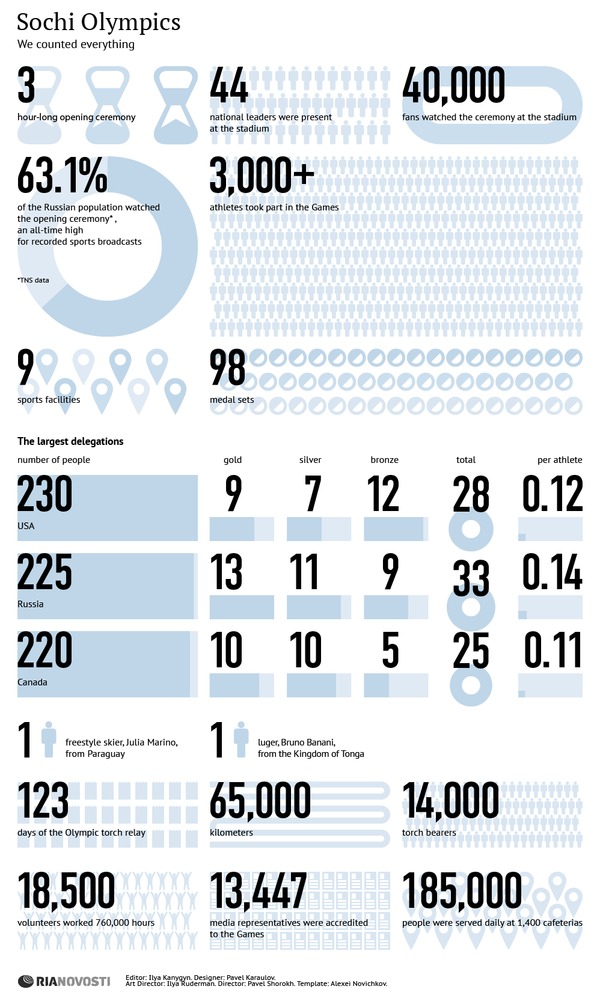 Sochi Olympics
Instead, he explained, it became a kind of game to relieve some of the tension associated with the Games. "The chatter from my peers turned it into something comical," Murphy said. "Humor fixes everything."
Still, Murphy admitted he had used Tinder as a means to get to know female athletes beyond the friendship level, saying the app had contributed this year to the Olympic Village's already infamously wild reputation.
He told the story of a male teammate who was getting intimate with a female athlete in the Olympic Village near the end of the Games when her neighbor accidentally walked in.
"The comical part was that she [the neighbor] knew him because they had been talking on Tinder," Murphy said. "I guess the mishap turned humorous because then the girl joined the game of hide-the-pickle."
Just how many people in Sochi used Tinder to enhance their love lives over the course of the 16-day festivities?
Justin Mateen, the app's cofounder and chief marketing officer, said that "Tinder was not intended to be a hookup app and when we did a recent survey less than 6 percent of our users have used the product that way."
© RIA Novosti
Winter Olympics: Facts and Figures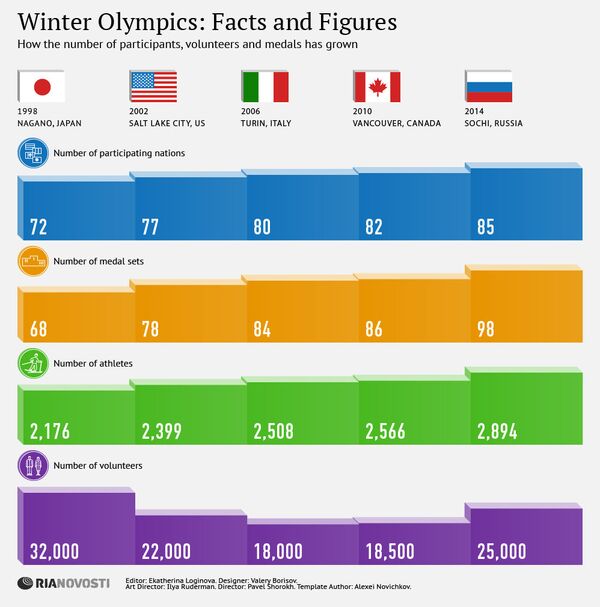 Winter Olympics: Facts and Figures
Still, he offered scant detail about how much traffic the app receives, saying the company could not give out exact numbers about users in Russia, but that most users in Sochi were "athletes and social influencers from around the world."
A world where new acquaintances can be made by staring at a handheld screen while not physically speaking to anyone can seem strange and tragic to some.
"Whatever happened to sitting in a pub and starting a conversation with the person sitting next to you?" Murphy lamented.
Regardless of Tinder's implications for face-to-face interaction, the app appears to have, at a minimum, served as an entertaining way to pass the time for thousands of athletes and tourists in Sochi during the Games.
And with celebrities publicly praising the app – which consistently ranks in the top 100 most popular applications in Apple's online store – its chances of "Tinderizing" ever more curious, tech-savvy fun-seekers are on the rise.