MOSCOW, March 3 (RIA Novosti) – A Russian passenger jet crashed into a Moscow highway in December 2012 due to crew error and defective thrust reversers that did not sufficiently slow down the plane during landing, the Interstate Aviation Committee (MAK) said Monday.
Five members of the eight-person crew were killed when the Tu-204-100, which was operated by Russian airline Red Wings but was not carrying passengers, overran the runway at Moscow's Vnukovo Airport on December 29, 2012.
MAK said in its final conclusions on the disaster that it had been caused by both engines' thrust reversers jamming, which meant the plane could not brake properly, causing it to overrun the runway and collide with an obstacle on the ground at a speed of 190 kilometers per hour.
© Sputnik
Leading Causes of Air Crashes and Aviation Incidents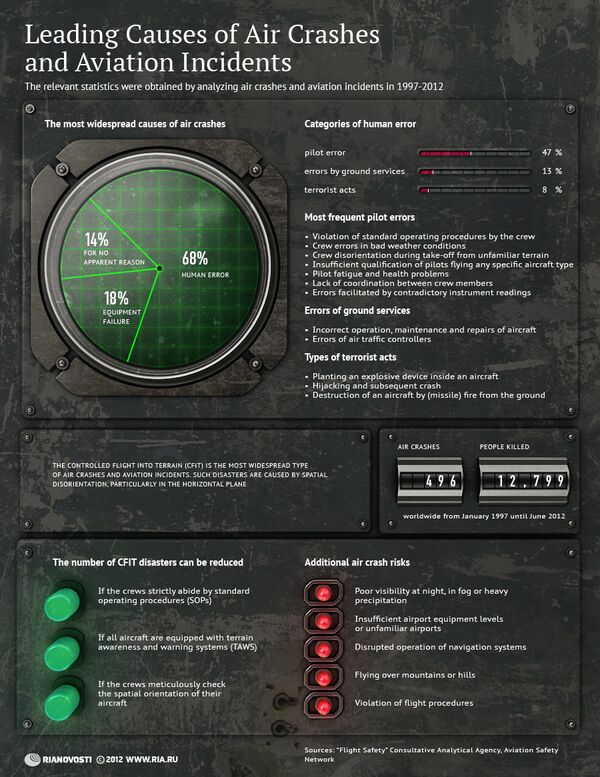 Leading Causes of Air Crashes and Aviation Incidents
The committee also said that the crew had not been properly trained on how to react in similar situations, and that their actions contributed to the accident.
In addition, adequate measures were not taken in response to a serious incident just days earlier involving an identical plane also operated by Red Wings, MAK said.