NOVO-OGARYOVO, March 5 (RIA Novosti) – The head of Russia's state-run energy company Gazprom said Wednesday that Ukraine's debt for natural gas deliveries is set to rise by $440 million, to just short of $2 billion.
Alexei Miller said that Ukraine has paid off $10 million of an outstanding $1.53 billion debt accumulated for previous gas consignments, but that arrears would rise again Friday on account of February deliveries.
The rise comes on top of a Gazprom announcement this week that it plans in April to annul a major discount on gas sales that had been negotiated with the government of Ukraine's now-ousted President Viktor Yanukovych.
© Sputnik
Russia – Ukraine Gas Dispute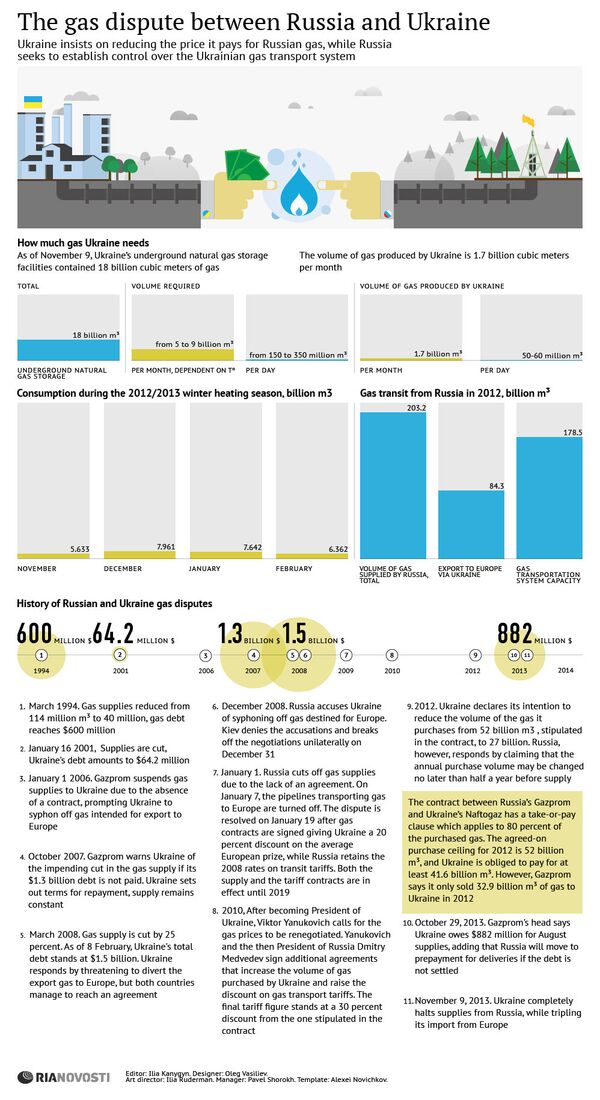 Russia – Ukraine Gas Dispute
Ukraine's national oil and gas company Naftogaz Ukrainy had as of February 14 paid Gazprom $1.28 billion for gas delivered last year and had asked to postpone payment of what remained until April 15.
Gazprom said in early February that Ukrainian debt for 2013 deliveries stood at $2.63 billion, meaning that Naftogaz had around $1.35 billion still to pay at the middle of the month.
Naftogaz bought around 13 billion cubic meters of gas from Russia in 2013 at the rate of $400 per thousand cubic meters.
That price was substantially reduced in December to $268.5 per thousand cubic meters.
The discount was part of a raft of support mechanisms devised by Russia for Ukraine following the latter's decision in late November to back away from signing a deal that would have deepened political and economic relations with the European Union.
Under the arrangement between Naftogaz and Gazprom, the size of the discount was to be determined on the first day of every new quarter and formalized within 10 days. Failure to renew the discount deal by April 10 would cause it to cease having effect.
Gazprom's Miller said Tuesday that the discount would likely be discontinued.
Moscow has so far paid $3 billion out of a promised $15 billion loan, which was to be issued as payment for internationally listed Ukrainian bonds.
Critics of the loan and discount package have argued that it was devised as a bribe to induce Ukraine to cement its ties with Russia, spurn the European Union and defer much-needed structural economic reforms.
The chance that the remainder of the Russian loan will be provided looks slim since last month's ouster of Yanukovych, who was chased out of office at the culmination of three months-long protests initially provoked by his decision on the EU deal.