MOSCOW, March 5 (RIA Novosti) – Historical parts of St. Petersburg and many other worldwide UNESCO sites could disappear because of rising sea levels caused by global warming, scientists has said in a report.
The study published by the Environmental Research Letters scientific journal Tuesday said that 136 out of 720 world heritage sites would be lost if current global warming trends persist over the next 2,000 years.
The landmarks lost to the rising sea levels would include Statue of Liberty in New York and the Sydney Opera House if current global temperatures rise 3 Celsius degrees over that period, according to the study.
Besides central St. Petersburg, the change would also affect the hearts of Venice, Naples and Istanbul.
Researchers estimated that 7 per cent of the world's population would end up living below sea level, while over half of those affected would be inhabitants of China, India, Bangladesh, Vietnam and Indonesia.
They also found that seven countries would lose 50 per cent of their land, mainly small island states like the Maldives, Bahamas and Cayman Islands.
© Sputnik
Global Warming: Predicting Future Disasters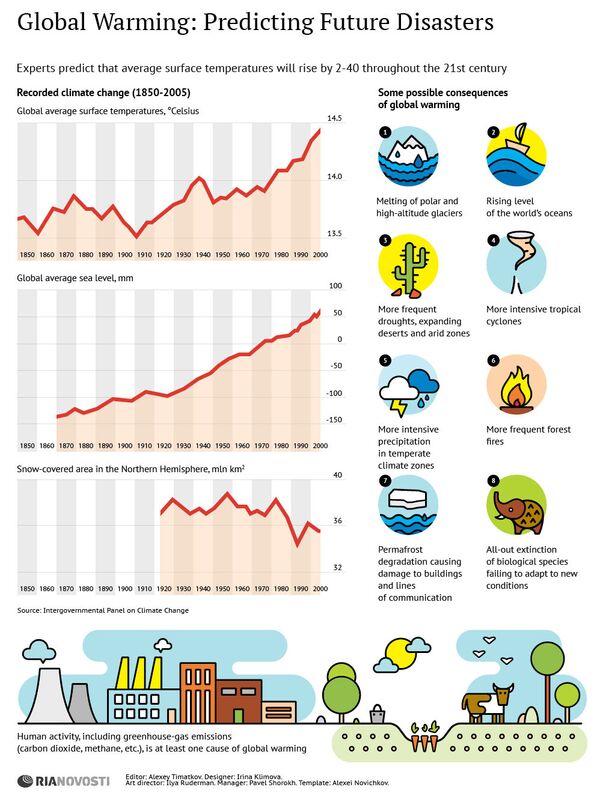 Global Warming: Predicting Future Disasters