KRASNAYA POLYANA, Russia, March 11 (R-Sport) – Germany's Anja Wicker emerged victorious after thick fog caused chaos at the shooting range in the Sochi Paralympic women's 10-kilometer sitting biathlon Tuesday.
Wicker, 22, was one of only two athletes to shoot clean throughout the four shooting stages and won by 42.3 seconds from Russia's Svetlana Konovalova, whose two missed shots meant she was forced to ski two penalty loops.
It is the first win at a major championships for Wicker, who was born with an underdeveloped lower spine. Her previous career high was a silver medal at last year's para-biathlon world championships.
The bronze medal Tuesday went to Lyudmyla Pavlenko of Ukraine, the gold medalist in Sunday's 12-kilometer cross-country skiing, who also missed two shots and finished one minute 28.2 seconds down on Wicker.
The reigning champion in the event, Russia's Maria Iovleva, missed five shots and finished seventh. Oksana Masters of the United States had been expected to be among the medal contenders, but missed nine shots in all and trailed in ninth, more than seven minutes off the pace.
Germany's Andrea Eskau came into Tuesday's race as a gold medal favorite after winning the six-kilometer biathlon Saturday, but failed to finish.
The reason for her withdrawal was not immediately clear, but Eskau struggles with asthma, which forced her to retire from Sunday's cross-country skiing.
© RIA Novosti
History of the Paralympic Games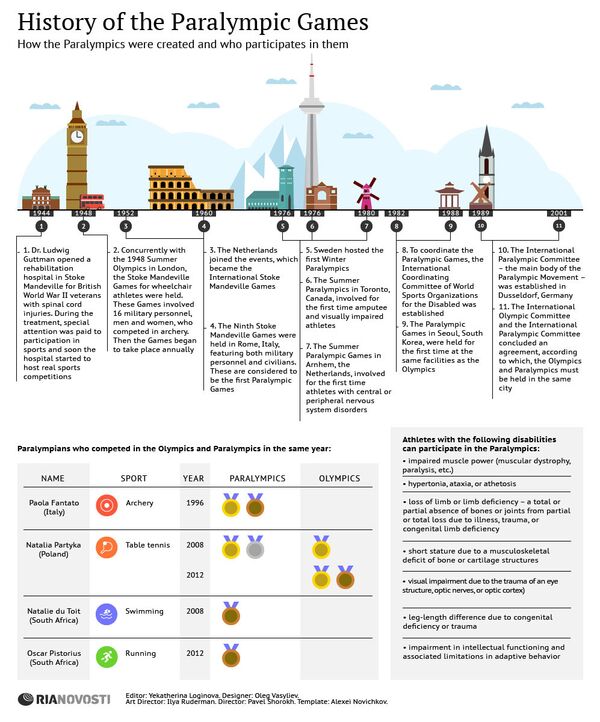 History of the Paralympic Games