GADZHIYEVO (Murmansk region), April 16 (RIA Novosti) – The first Borey-class ballistic missile submarine could be put on combat duty this year after taking weaponry on board, a senior Russian Navy commander said Wednesday.
"Upon receiving new weapons on board this year, the Yury Dolgoruky submarine will be ready to perform its duties," said Rear Admiral Alexander Moiseev, commander of the submarine forces of the Northern Fleet.
The Yury Dolgoruky joined the Northern Fleet in January 2013 while the second Borey-class boat, the Alexander Nevsky, was commissioned by the Navy in December last year.
© Sputnik
Yury Dolgoruky Strategic Nuclear Submarine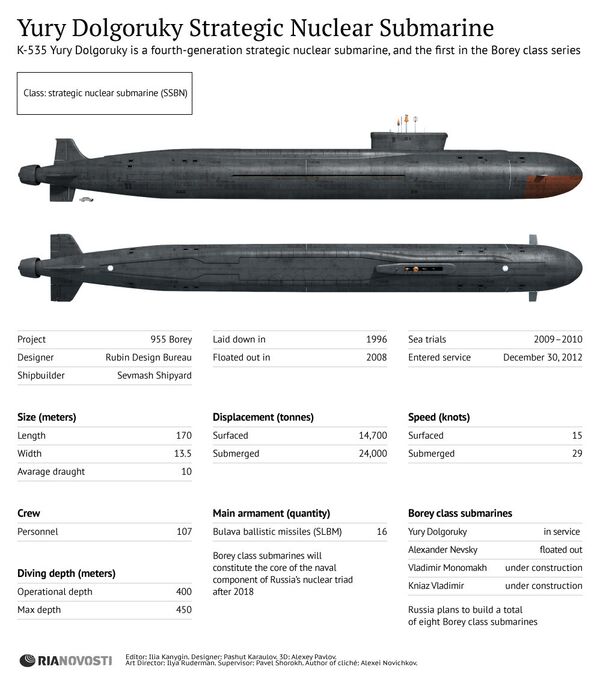 Yury Dolgoruky Strategic Nuclear Submarine
The Borey is Russia's first post-Soviet ballistic missile submarine class and will form the mainstay of the strategic submarine fleet, replacing aging Typhoon, Delta-3 and Delta-4 class boats. Russia expects eight Borey-class submarines to enter service by 2020.
The new Borey-class boats, with a length of nearly two football fields, can carry sixteen Bulava missiles, each fitted with up to 10 independently-targetable nuclear warheads.
Ballistic missile submarines comprise one leg of Russia's strategic nuclear triad along with land-based ICBMs and the bomber force.