MOSCOW, June 3 (RIA Novosti) – Russian gas giant Gazprom is going to attract external funds into South Stream project but ready to manage without it under unfavorable conditions, the company's deputy CEO Alexander Medvedev told reporters Tuesday.
"Project financing was successfully realized both in Nord Stream and Sakhalin-2 projects and I think that these tools will be used in South Stream as well. If you ask me if I'm ready for the worst case scenario, I'd say 'Yes, we are ready,'" Medvedev said.
On May 23, Oleg Aksyutin, head of South Stream Transport, the project operator, said that funding for the maritime section of the South Stream gas pipeline projects are to be determined by the end of the year. The shareholders will invest 30 percent of total cost of the project, the rest 70 percent will be paid thanks to loans, according to him.
South Stream is a Russian-initiated 15.5-billion-euro gas pipeline project aimed to cut Moscow's dependence on the Ukrainian transit system and diversify Russian gas deliveries to Europe. The pipeline, construction of which began in 2012, will transport Russian natural gas across the Black Sea to Bulgaria and farther to EU countries, bypassing Ukraine. Commercial deliveries through the South Stream to Europe are expected to begin in the first quarter of 2016, with the pipeline becoming fully operational in 2018.
© Sputnik
South Stream Pipeline Project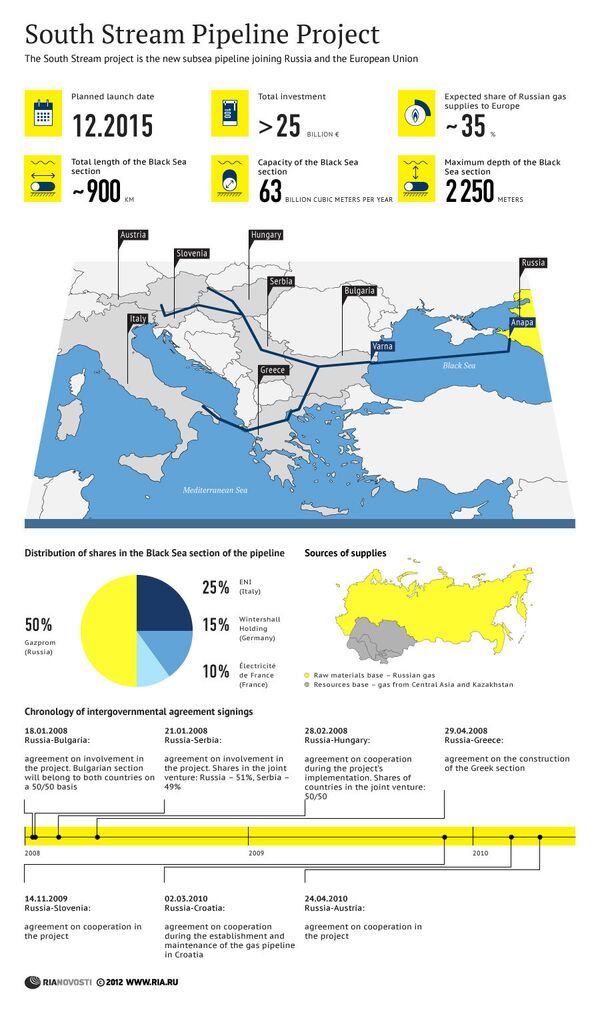 South Stream Pipeline Project
South Steam's offshore leg will comprise four parallel pipelines. Each pipeline will be over 930 kilometers (575 miles) long and have a capacity of up to 40 million cubic meters of natural gas per day. Gas flows will be monitored and controlled around the clock by South Stream Transport.
The tender for the first of the four offshore pipelines was awarded in March to Italy's Saipem S.p.A., a subsidiary of energy giant Eni. South Stream Transport said it had already signed a contract for the delivery of some 150,000 pipe segments.
Russia annually pumps about 100 billion cubic meters of gas to European countries via Ukraine, which makes up 80 percent of its total gas supplies to Europe.