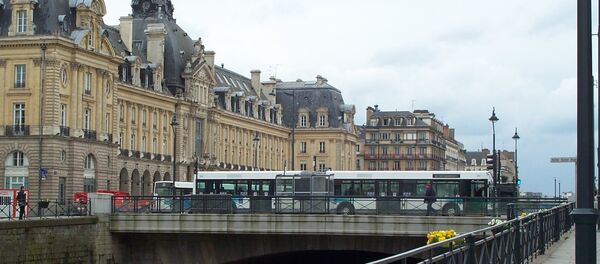 23 November 2014, 15:51 GMT
MOSCOW, November 30 (Sputnik) – Approximately 17,000 people are being evacuated from their homes in the German city of Dortmund due to a dangerous discovery in the area, the newspaper Kolnische Rundschau reports.
The 1.8 metric ton British World War II air bomb was found during construction work at the site of a pump manufacturer in the city's Hörde district.
The mine is filled with 1.5 metric tons of explosives, the newspaper says. The explosive force is several times more powerful than the force of conventional bombs.
Therefore, the decision has been made to evacuate everyone within 1.5 km of the deadly unexploded ordnance.
The defusing operation is set to occur at 12:00 noon local time. Over 1,000 experts are taking part in the operation.
The newspaper says it is the fourth such discovery of a large, unexploded bomb being discovered in Dortmund since the end of the war.
Such dangerous discoveries are not rare in Germany. Even almost 70 years after the war, many unexploded bombs have yet to be discovered. Most are found during construction work, or when prospective property buyers get a detailed aerial analysis done.
Estimates suggest that up to 20 percent of all World War II bombs failed to explode.