MOSCOW, December 2 (Sputnik) – India has successfully conducted the first user trial of the Agni-IV intermediate range ballistic missile, The Times of India reported Tuesday.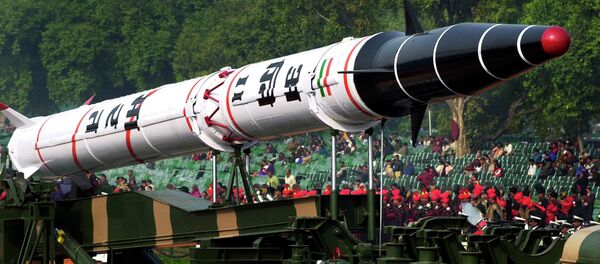 9 November 2014, 11:17 GMT
The Agni-IV was tested from Wheeler Island off the eastern Indian state of Odisha by the Indian army's Strategic Forces Command (SFC).
The entire flight from the missile's lift-off till the splashdown in the Indian Ocean lasted 15 minutes.
Agni-IV is a two-stage nuclear capable intermediate range ballistic missile equipped with advanced avionics, including a fifth-generation computer and distributed architecture. The missile has a maximum range of 3,500 kilometers and is capable of carrying a payload of 800 kg.
The Agni missiles are a group of medium to intercontinental range ballistic missiles designed in India. The first missile of the series, Agni-I was developed and tested in 1991.