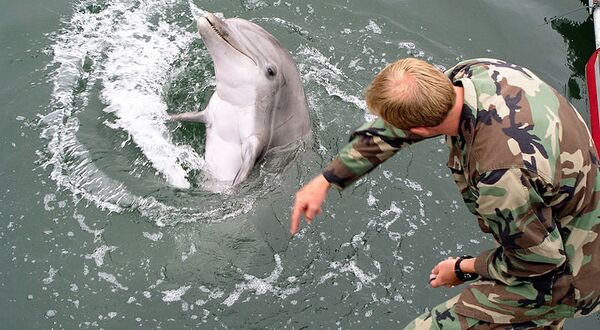 12 September 2014, 11:34 GMT
SEVASTOPOL, December 3 (Sputnik) – The Russian Black Sea Fleet's Special Forces have held its first training exercises with combat dolphins since the Crimean Peninsula was reunited with Russia, a military source in Crimea told RIA Novosti on Wednesday.
"Training exercises were held with combat dolphins in the Sevastopol Oceanarium in the search of military equipment at a depth of over 60 meters. An object that looked like a mine was spotted by a dolphin and tagged with a buoy," the source said.
After the fall of the Soviet Union the military dolphin program was passed to the Ukrainian Navy. After Crimea rejoined Russia in March 2014, the program was returned to the Russian Defense Ministry.
The military dolphin training program was developed in the 1960s. In September it was reported that the program involved 13 dolphins and several sea lions. Some of the mammals subsequently worked in therapy programs.
"We have to practically start from scratch to teach the [mammals] to search for objects under the water because the Ukrainian Navy hardly worked with them," the source said.
The Crimean facility is one of only two such combat dolphin training centers in the world, the other is run by the US Navy in San Diego.
The dolphins are trained to patrol open waters for swimmers and divers attempting to enter restricted areas. The mammals are also used to locate items of military interest, such as mines on the sea floor, as man-made sonar systems are often incapable of detecting small objects in crowded environments such as harbors.