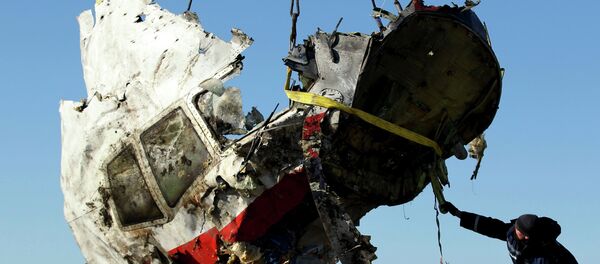 1 December 2014, 18:51 GMT
MOSCOW, December 3 (Sputnik) — The ongoing investigation into the Malaysian Airlines Boeing 777 crash in eastern Ukraine runs counter to the UN resolution and guidelines under the International Civil Aviation Organization, the Russian Foreign Ministry's Human Rights Ombudsman Konstantin Dolgov said Wednesday.
"The Malaysian Boeing crash near Donetsk took the lives of almost 300 people. There has been no effective or impartial investigation into this tragedy as of yet, which is evidently in violation of UN Security Council's Resolution 2166 and the rules of the International Civil Aviation Organization, ICAO," Dolgov said during a conference at the Rossiya Segodnya press center.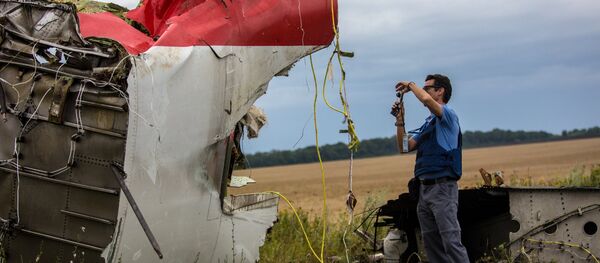 1 December 2014, 13:37 GMT
On July 17, Malaysia Airlines flight MH17 en route from Amsterdam to Kuala Lumpur crashed in eastern Ukraine, killing all 298 people on board.
The Australia-initiated UN resolution was adopted on July 21 in the wake of the plane crash to back "efforts to establish a full, thorough and independent international investigation into the incident in accordance with international civil aviation guidelines".
The Russian ombudsman hit out against the sluggish pace of the investigation, saying those "who are not interested in establishing the truth have effectively slammed the brakes on" the probe.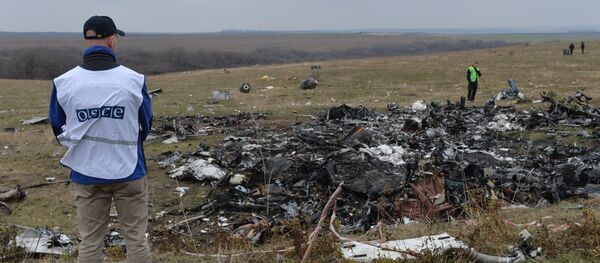 15 November 2014, 06:55 GMT
Russia has earlier voiced dissatisfaction with the way in which the probe was conducted claiming the team of Dutch experts working on the scene had refused to investigate some of the wreckage, including fragments that allegedly bore signs of shrapnel.
According to a preliminary report issued by the Dutch Safety Board in September, the plane most likely broke up in mid-air because of structural damage from a large number of high-energy objects that penetrated the aircraft from the outside.
Kiev has accused independence supporters in eastern Ukraine of shooting the plane down, while local militia leaders say that they do not have weapons capable of striking an aircraft flying at 32,000 feet.