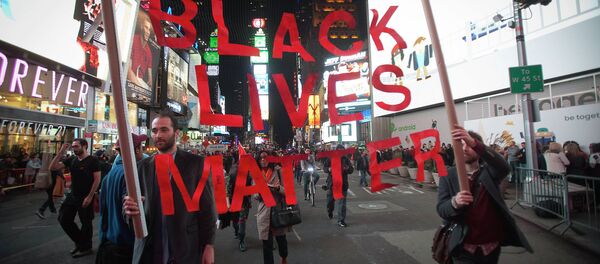 4 December 2014, 00:43 GMT
MOSCOW, December 4 (Sputnik) – New Yorkers have taken to the streets to protest the grand jury decision not to indict Daniel Pantaleo, a white police officer, who asphyxiated African-American Eric Garner earlier this year.
Protesters have rallied in New York City's Times Square, Union Square, Lincoln Center and Staten Island, calling for a public trial of officer Pantaleo. They chanted, "I can't breathe!" and "No justice, no peace!" according to Fox News. A group of protesters had staged a "die-in" at Grand Central Station, representing victims of police brutality.
Although demonstrators blocked traffic in some parts of the city, they did not disrupt the tree lighting ceremony at Rockefeller Center. However, over 30 protesters had been detained near Rockefeller Center "after demonstrators tried to jump and break down police barriers," NYPD spokesman Stephen Davis said, as quoted by The Wall Street Journal.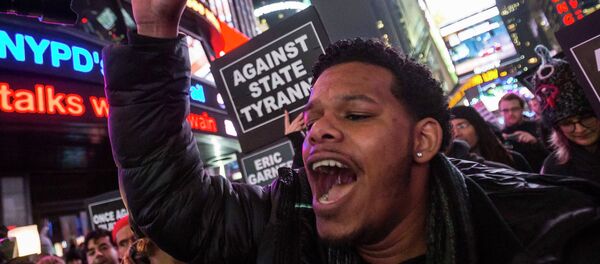 4 December 2014, 01:19 GMT
Garner, who was asthmatic, died from suffocation in July after being put in a chokehold by police officer Daniel Pantaleo. A bystander recorded a video of the police arresting Garner, who sold untaxed cigarettes, and of Pantaleo later choking the man to death, as Garner cried out "I can't breathe, I can't breathe." The video went viral online.
Wednesday's grand jury decision on Garner follows another similar case in Ferguson, Missouri, where African-American teenager Michael Brown was killed by a white police officer in August. That killing and a similar verdict by a grand jury not to indict officer Darren Wilson last week set off nationwide protests and renewed debates over police brutality.
On Tuesday, Holder announced that the US Justice Department was completing its work on new law enforcement guidelines, aimed at ending racial profiling in the United States.