MOSCOW, December 4 (Sputnik) — The wording of President Vladimir Putin's state of the nation indicates that Russia is still open for business with the West despite the Ukraine row, experts told Sputnik on Thursday.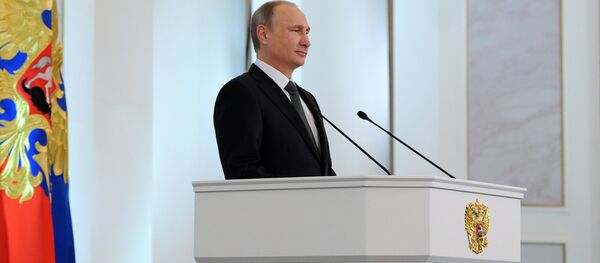 4 December 2014, 10:25 GMT
"The address had no anti-West, confrontational notes to it. It was just critical of the Ukrainian issue. In other words, it looked like the Russian president wanted to leave the door open for improving mutual relations with his opponents in Europe and the US," Slovak publicist and political correspondent Dusan Kerny said.
In his annual address to the parliament, Putin vowed that Russia would not allow for the West to pull an iron curtain on it. Kerny said he was relieved to hear that Russia was not going to isolate itself from the European Union and the rest of the world.
Polish political scientist, Dr. Adam Bobryk, told Sputnik the address was equally intended for Western leaders, who had already commented on what they expected to hear from the Russian president prior to his speech in the Kremlin.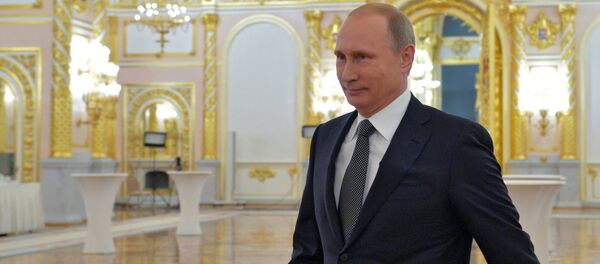 4 December 2014, 10:24 GMT
On Wednesday, US President Barack Obama said at a business roundtable in Washington he did not believe Putin would announce a shift in his stance on the Ukrainian crisis any time soon, and vowed to increase sanctions pressure on Moscow.
Dr. Bobryk said the ball was now in the Western European court, and Putin's speech invited them to mend relations with Russia after the Ukrainian standoff.
"I think this message was intended both for Russians as well as the international community and politicians who were waiting on Russia's next move," the Polish commentator said. "It is now important to see how Western leaders will react to Vladimir Putin's statements," he added.
Kerny pointed out that, despite Putin's vow to maintain relations with Western Europe, the Russian president once again reaffirmed Russia's commitment to its Asia Pacific partners, who he described as powerhouses of global economic growth.
Speaking about economy, Putin called for a number of incentives to attract investors, including a four-year freeze on tax rates and looser government controls.
Kim Hyun Taek, Director of the Institute of Russian Studies at Hankuk University of Foreign Studies in Seoul, South Korea, said Russia's recent measures to rally foreign investors had drawn the interest of South Korean investors.
"Perhaps it's not an ideal climate, but the business climate in Russia has definitely changed for the best," Kim said. "That's why South Korea is closely watching Russia's plans for energizing the Northern Sea route, primarily in terms of logistics and major joint projects with Russia," the expert noted.
The Northern Sea route has been gaining importance as an alternative shipping lane to traditional routes from Europe to Asia.