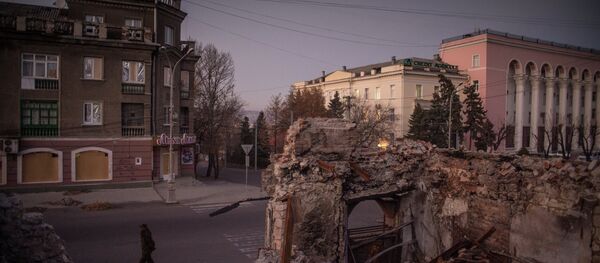 3 December 2014, 10:28 GMT
MOSCOW, December 5 (Sputnik) — Kiev-led security forces and representatives from the self-proclaimed Luhansk People's Republic (LPR) will sign a new ceasefire agreement on December 9, Ukraine's National Security and Defense Council confirmed Friday.
"Our representatives at the joint coordination center [on Donbas crisis resolution] have received all relevant directives. They must have talked already [with Luhansk officials] to agree the date for December 9," NSDC spokesman Andriy Lysenko told reporters in Kiev.
LPR leader Igor Plotnitsky earlier told RIA Novosti that the warring sides had agreed the details of the document while the actual signing was expected in Minsk next week.
"We had a meeting [with Ukrainian security officials]. So far we have agreed the details of the document while the actual signing, as far a I understand, will be done in Minsk," Plotnitsky told RIA Novosti in a phone call.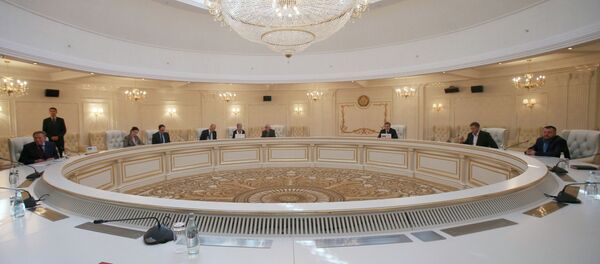 3 December 2014, 14:04 GMT
Plotnitsky added that the signing ceremony could be held during a meeting of a Contact Group on Ukrainian crisis resolution in Minsk.
Earlier on Friday, Deputy Head of the Ukrainian President's Administration Valeriy Chaliy said December 9 was named to be the possible "day of silence", which would allow to withdraw heavy arms and artillery and mark the start of peace process between the parties to the conflict.
Residents of the Donetsk and Luhansk regions in eastern Ukraine established people's republics that later declared their independence following a February coup in Kiev. The Ukrainian crisis escalated in mid-April, when Kiev launched a military offensive against the independence supporters.
The conflicting sides agreed a ceasefire on September 5 at a meeting of the trilateral Contact Group on Ukraine in Minsk, and signed a memorandum specifying the ceasefire's implementation on September 19. However, both sides have subsequently accused each other of violating the truce