MOSCOW, December 6 (Sputnik) — Demonstrators all over the United States staged die-ins, blocked roads and marched in stores to protest the recent rash of police violence against African American men, including a New York grand jury's decision not to indict a policeman responsible for chokehold death of Eric Garner.
The protests follow demonstrations which have been occurring regularly since last month's St. Louis Missouri grand jury decision not to indict a police officer for the shooting death of Michael Brown in Ferguson.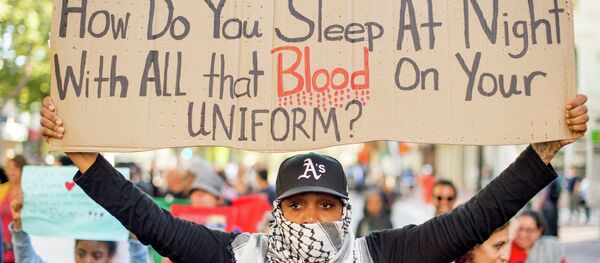 5 December 2014, 16:32 GMT
Protests erupted on Wednesday over Garner's death, after a grand jury in New York City decided not to indict Officer Daniel Pantaleo, who was responsible for the death of the
unarmed man
.
Despite the cold and rain, protesters marched on Friday night in New York City, many briefly laying down in protests at Macy's, Columbia University, an Apple store on Fifth Avenue, and Grand Central Terminal. The demonstrators walked along Fifth Avenue and through other parts of Manhattan with signs and chanted slogans including "Black lives matter" and "I can't breathe", the latter a reference to Garner's last words. He had said this while being choked to death by Officer Pantaleo in Staten Island after being arrested for selling loose cigarettes illegally. Protesters provided the media with a list of demands. These included a call for the officers involved in the killing to be fired and for the choking of criminal suspects to be punishable by significant penalties. They also demanded that the city government should appoint a special prosecutor to investigate all complaints of excessive force, CNN explained. Police were reported to have arrested several dozen when demonstrators began blocking traffic on the FDR Drive in Lower Manhattan.
In New Jersey, dozens of students walked through New Brunswick, slowing downtown traffic and forcing the city to postpone its tree-lighting ceremony. Hundreds gathered in Washington, DC, shouting "Show me what democracy looks like! This is what democracy looks like!" One African American carried a sign simply saying "I could be next", CNN noted. Another told a CNN reporter that "I'm not an angry black man. I'm an outraged, hurt black man."
Meanwhile in New Haven, Connecticut, hundreds of demonstrators gathered at Yale University, marching to the city's courthouse, while as many as a thousand protesters marched in Somerville, Massachusetts, home to Tufts University. Several hundred marched in Rhode Island, blocking downtown streets, the Associated Press noted. In Florida, activists blocked a major causeway that connects the city of Miami to Miami Beach; this was the first demonstration in that city, Agence France-Presse explained.
6 December 2014, 09:00 GMT
Outside Denver, Colorado, students were reported to have walked out of class on Friday to protest the verdicts not to prosecute the officers charged with the
deaths
of Garner and Brown. In Oakland, California, protests briefly resulted in the blocking of Interstate Highway 880, with no immediate reports of arrests or injuries.
Protests also took place in other major cities across the US including Boston, Chicago, Cleveland, Pittsburgh, Phoenix and New Orleans.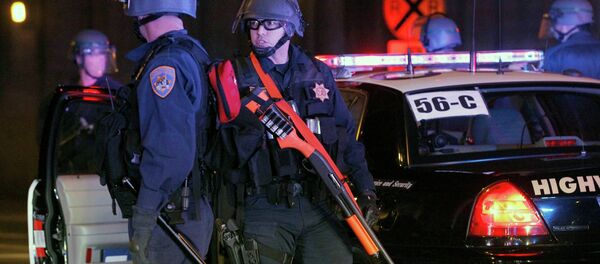 6 December 2014, 09:54 GMT
The increasingly
publicized issue
of
police violence
against African Americans has led to led to a great deal of anger and
frustration
among minorities, civil rights supporters, and the general public. The protests, said to be largely spontaneous and leaderless on a national level, have largely been organized via social media. CNN explained that the signs, marches and acts of civil disobedience are reminiscent of the Civil Rights era protests of the 1960s.
Civil rights activist Al Sharpton's National Action Network is set to hold a rally outside its national headquarters Saturday morning. Sharpton has said that the grand jury system is "broken" and that it's time for the federal government to intervene to "protect people from the state grand juries."