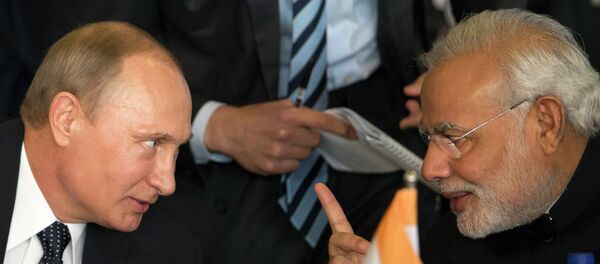 6 December 2014, 00:10 GMT
NEW DELHI, December 6 (Sputnik), Bijendra Singh – Major deals to boost defense cooperation between Moscow and New Delhi
will be signed
during the official visit of Russian President Vladimir Putin to India, Russia's ambassador Alexander Kadakin told Sputnik Saturday.
"These will be important agreements in the field of our military exchanges and in our joint efforts which will correspond completely to the 'Make in India' appeal which [Indian] Prime Minister [Narendra Modi] did," the Russian envoy to India told Sputnik.
Russia's efforts have been geared towards the with 'Make in India' appeal for "many, many decades now," Kadakin added.
"You produced our Sukhoi [aircraft] and other military equipment, also BrahMos [cruise missile]," the ambassador said.
Russia and India are currently experiencing "the overall uplift of the relations," Kadakin said.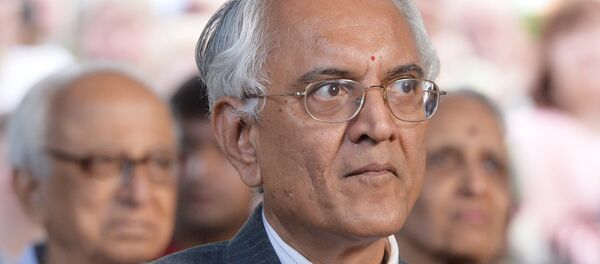 5 December 2014, 13:00 GMT
"There was some kind of lull in our bilateral exchanges but now … our relations have entered the stage of strategic and privileged partnership," he noted.
The upcoming Putin's visit is important since it will be the first full format annual official summit between India and Russia after the new government's accession to power in New Delhi, Kadakin added.
"Prime Minister Narendra Modi and Mr. Putin met already twice in Brazil and Australia but this will be the first full format official summit in New Delhi which we have every year," the envoy explained.
Putin will visit India on December 10-11 to co-lead the 15th Annual India-Russia Summit. The Russian president will be accompanied by a business delegation in addition to high-ranking officials. Separate talks are also scheduled to be held between Putin and Indian Prime Minister Narendra Modi.
The annual India-Russia summits have been underway since October 2000 on the initiative of Putin. The upcoming summit will follow the one that took place last year, when Manmohan Singh served as the Indian prime minister.