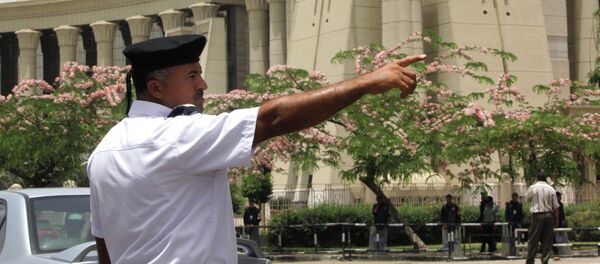 3 December 2014, 12:32 GMT
MOSCOW, December 6 (Sputnik) — An Egyptian Criminal Court has sentenced seven jihadists to death including Adel Habara, a prominent Islamist leader, over the attack against a police convoy in August 2013 in Sinai,that resulted in the deaths of 25 security personnel.
"The defendants committed the listed crimes because of their belief in the ideology of terrorist organization al-Qaeda," said the judge, upholding the ruling of Egypt's top religious authority, the Grand Mufti, according to the BBC.
The BBC notes that it is Adel Habara's second death sentence. The Islamist was also charged with carrying out bombings in the resorts of Taba and Dahab in 2004 and 2006.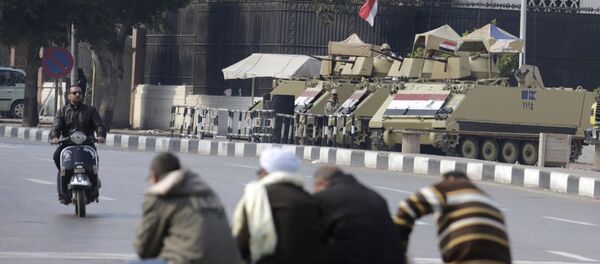 3 December 2014, 02:57 GMT
The attack on Egyptian security forces in August 2013 in Sinai, close to the Gaza border, was one of the most ruthless terror acts conducted by Islamist militants in Egypt in recent times. During the assault, 25 duty-off police officers were murdered.
The Cairo Criminal Court has also sentenced 25 other insurgents to different jail terms, from 15 years to life imprisonment. Only 19 of the defendants were present during the announcement of the verdict including Habara, Reuters reports. The ruling still can be appealed.
Egyptian officials point out that the level of Islamist terror activity in northern Sinai has increased substantially since the ousting of President Mohamed Morsi last year. Sinai-based insurgents of the Ansar Beit al-Maqdis group, which has pledged loyalty to the Islamic State, have reportedly carried out a suicide bomb attack in el-Arish on 24 October 2014 that claimed the lives of 33 security servicemen. Thus far, Egypt's security forces have been taking considerable efforts in order to contain the terror threat.
More than 500 people, predominantly police officers and military personnel, have been killed by Islamist militants in Egypt since summer 2013. Egyptian officials have repeatedly expressed concerns about jihadi fighters entering Egypt from Libya, torn by internal military strife.
Egyptian President Abdel Fattah al-Sisi has cracked down on Islamist jihadists as well as on Muslim Brotherhood supporters in order to restore peace and order in the country after the devastating Arab Spring unrest.