MOSCOW, December 7 (Sputnik) – Police say they detained over 200 people in Athens, the capital of Greece during a protest that became violent.
On Saturday, thousands took to the streets to commemorate the anniversary of the death of an unarmed teenager who was shot by the police on December 6, 2008, AP reports on Sunday.
The rally, which continued late into the night, had been planned as a procession through the city to the spot where the young man was killed six years ago.
However, at some point it turned violent: the demonstrators started damaging stores and bus stations, throwing petrol bombs at police, and setting bank ATMs, cars, shops and clothes looted from shops on fire.
The police responded by using tear gas, stun grenades and water cannons to beat the protesters back.
On December 6, 2008, a police officer killed 15-year-old Alexandros Grigoropoulos after a short argument with the teenager and his friends. At some point, the officer went to his patrol car, retrieved his gun and shot the adolescent boy.
The incident sparked two weeks of the most violent rioting Greece had seen in decades, and has been commemorated with similar rallies every year since.
© AP Photo / Thanassis Stavrakis
A police water cannon operates as riot police try to avoid petrol bombs during a protest in the Athens neighborhood of Exarchia, with a reputation of being a haven for extreme leftists and anarchists, on Saturday, Dec. 6, 2014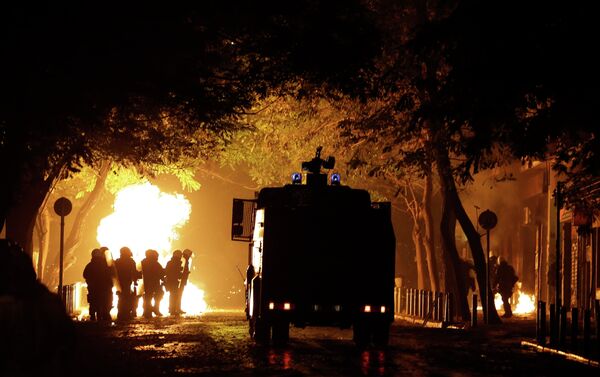 © AP Photo / Thanassis Stavrakis
A police water cannon operates as riot police try to avoid petrol bombs during a protest in the Athens neighborhood of Exarchia, with a reputation of being a haven for extreme leftists and anarchists, on Saturday, Dec. 6, 2014
© AP Photo / Petros Giannakouris
Riot police try to avoid petrol bombs thrown by protesters during clashes in the Athens neighborhood of Exarchia, a haven for extreme leftists and anarchists, on Saturday, Dec. 6, 2014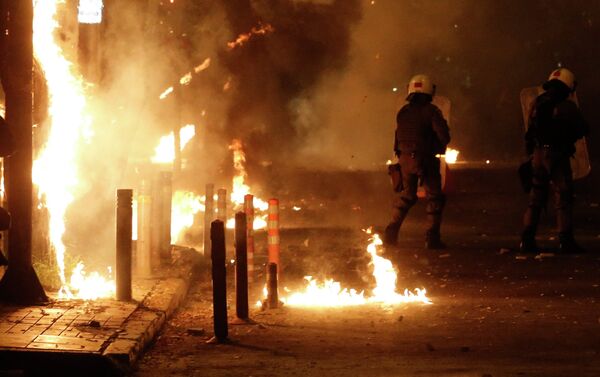 © AP Photo / Petros Giannakouris
Riot police try to avoid petrol bombs thrown by protesters during clashes in the Athens neighborhood of Exarchia, a haven for extreme leftists and anarchists, on Saturday, Dec. 6, 2014
© AP Photo / Kostas Tsironis
A local resident in his underwear tries to extinguish a burning car used by protesters as a barricade, during riots in Athens neighborhood of Exarchia, a haven for extreme leftists and anarchists, on Saturday, Dec. 6, 2014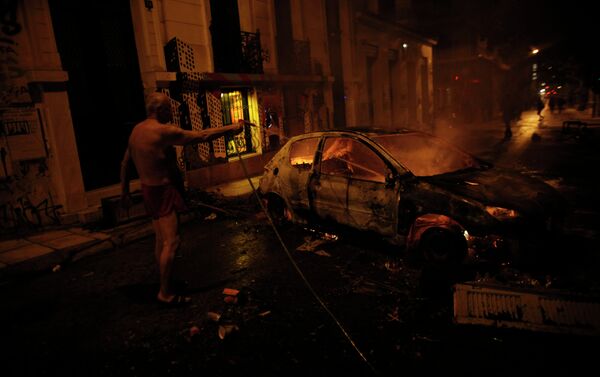 © AP Photo / Kostas Tsironis
A local resident in his underwear tries to extinguish a burning car used by protesters as a barricade, during riots in Athens neighborhood of Exarchia, a haven for extreme leftists and anarchists, on Saturday, Dec. 6, 2014
© AP Photo / Thanassis Stavrakis
A police water cannon operates as riot police try to avoid petrol bombs during a protest in the Athens neighborhood of Exarchia, with a reputation of being a haven for extreme leftists and anarchists, on Saturday, Dec. 6, 2014
© AP Photo / Petros Giannakouris
Riot police try to avoid petrol bombs thrown by protesters during clashes in the Athens neighborhood of Exarchia, a haven for extreme leftists and anarchists, on Saturday, Dec. 6, 2014
© AP Photo / Kostas Tsironis
A local resident in his underwear tries to extinguish a burning car used by protesters as a barricade, during riots in Athens neighborhood of Exarchia, a haven for extreme leftists and anarchists, on Saturday, Dec. 6, 2014