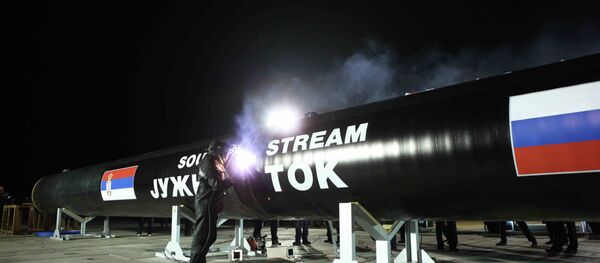 2 December 2014, 13:56 GMT
MOSCOW, December 7 (Sputnik) — Russian President Vladimir Putin has discussed the prospects of energy cooperation with Hungarian Prime Minister Viktor Orban and Serbian President Tomislav Nikolic in phone conversations, the Kremlin press service said in a statement released Sunday.
"Questions of bilateral cooperation and prospects of further energy cooperation in the light of the South Stream project termination have been discussed," the statement read.
In 2012, Russian energy giant Gazprom announced the beginning of construction of the South Stream pipeline across the Black Sea in order to ensure safe passage of Russian natural gas to Central and Southern Europe, bypassing the Ukrainian territory.
Brussels has repeatedly stated the project violates the EU Third Energy Package, which stipulates that owning a pipeline and at the same time producing the natural gas that flows through it is an illegal conflict of interest. Moscow, however, insisted that the project did not contradict the regulations.
On December 1, Vladimir Putin announced the termination of the project due to the the European Commission's "non-constructive" stance on the matter.