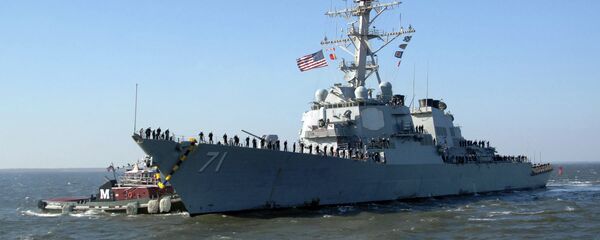 9 December 2014, 20:05 GMT
"These ships will be used to meet the US commitment to missile defense of Europe as part of the US European Phased Adaptive Approach (EPAA) to counter the threat against Europe of ballistic missile attack from Iran," the DoD representative said.
But in addition to missile defense, the decision to homeport four Aegis ships in Spain is also a cost-saving measure, according to the DoD, because "by having the ships forward deployed to Rota, it eliminates around 10 days of time, required to cross the Atlantic each way."
The spokesperson added that these assets will help "maximize their [US and NATO's] operational flexibility for missions in the Atlantic and Mediterranean," and will allow the United States to conduct a wide range of naval activities, including missile defense, deterrence and the ability to support NATO and US missions, exercises and engagements.
8 December 2014, 10:33 GMT
When asked how Russia should perceive the Rota buildup, the DOD representative said that the United States has been transparent about deploying more ships to the region.
"The planning for this deployment has been a matter of public record for many years, as reflected in our annual budget documents submitted to Congress. We refer you to the government of Russia regarding how they perceive this deployment," the spokesperson said.
The US missile defense system in Europe, which NATO and the United States say is aimed at countering threats from North Korea and Iran, has been a particular source of friction in US-Russian relations for a number of years.