WASHINGTON, December 10 (Sputnik) – US manufacturer of Antares spacecraft, crashed in November while on the mission to International Space Station (ISS), will complete remaining cargo flights to the ISS by the end of 2016, Orbital Sciences Corporation has announced.
"The company's primary objective is to fulfill its commitment to NASA [National Aeronautics and Space Administration] for ISS cargo deliveries with high levels of safety and reliability and minimum disruption to schedule," Orbital said in a statement Tuesday. "These plans are expected to allow Orbital to accomplish all remaining cargo deliveries under its current Commercial Resupply Services (CRS) contract with NASA by the end of 2016 and with no cost increase to the space agency."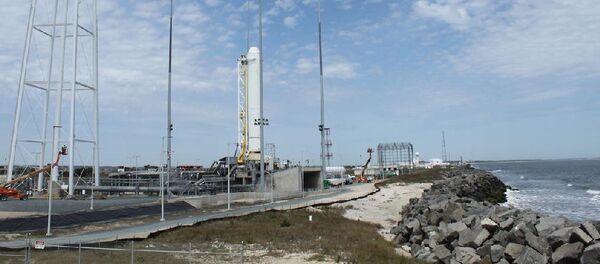 5 November 2014, 17:05 GMT
The company added that its Cygnus cargo spacecraft would allow to completion of all contracted ISS deliveries in four missions, instead of five planned previously, over the period of the next two years.
The company has partnered with similar launch firms for additional cargo spacecraft flights to the ISS. It has also upgraded the new Antares propulsion system, scheduled for three more launches to the space station.
Orbital have made repairs to NASA's Wallops flight facility as well, where the Antares spacecraft, carrying over two tons of cargo to the ISS, crashed on October 29 just six seconds after launching.