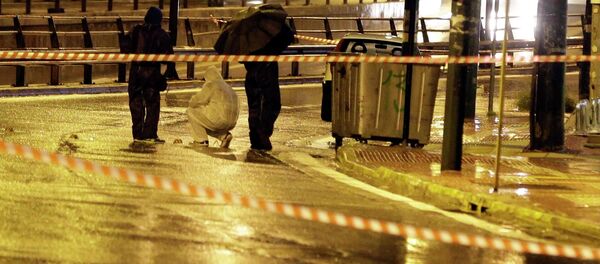 12 December 2014, 11:09 GMT
ATHENS, December 12 (Sputnik) — The far-left Popular Fighters Group that claimed responsibility for the attack on the residence of the German ambassador in 2013 was likely responsible for Friday's attack on the Israeli embassy in Athens, the Greek news website Protothema reported citing police sources.
According to Protothema, the ballistic investigation has proved that the two Kalashnikov assault rifles used in the Friday attack on the Israeli embassy had been used in the assault on the residence of the German ambassador on December 13, 2013.
At 03.15 local time (01.15 GMT) Friday four men on two motorcycles opened fire as they drove past the Israeli embassy in the Psychiko district of Athens. Police reported that 54 bullet casings matching those manufactured by Kalashnikov were found at the scene.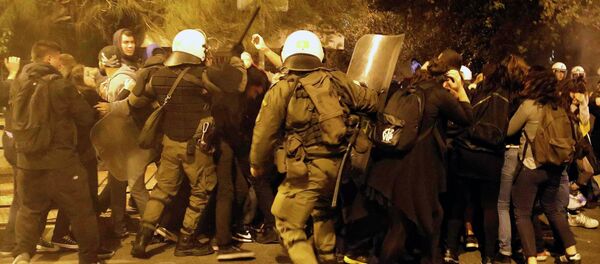 18 November 2014, 07:03 GMT
In a similar attack in December 2013 also in Athens some 60 shots from Kalashnikov rifles were fired by men driving past the German consulate on motorcycles.
The Popular Fighters Group, also known as Group of Popular Rebels, also claimed responsibility for attacking the office of the governing New Democracy Party in Athens in January 2013 and for firing rockets at the Mercedes- Benz's Greek headquarters in January 2014.
According to the Greek media, the police are not ruling out the possibility of an increase in the number of attacks amid the situation related to Nikos Romanos — a 21-year-old Greek anarchist, sentenced to 16 years for bank robbery, who ended a month-long hunger strike Wednesday.