NEW YORK, DECEMBER 14 (Sputnik) – A participant in New York protests against US police brutality, which follow grand jury decisions not to indict white officers Daniel Pantaleo and Darren Wilson who killed two African-American men in separate incidents earlier this year, has told Sputnik that the policemen have committed murder and "got away" with it.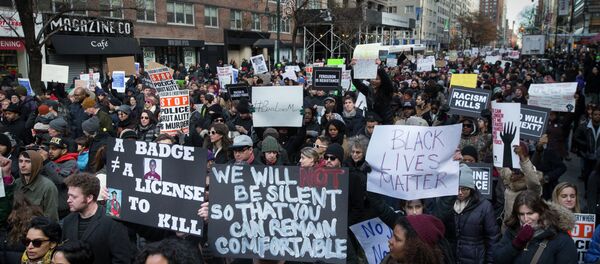 13 December 2014, 22:18 GMT
"My uncle is a cop. So it's not a cop thing for me. It's about the fact that they got away with murder. They claim they were following the rules. Well, then the rules have to change. It tells you that it's a systemic problem with our justice system. These guys have to face consequences," 17-year-old Jael Lewis, who was marching with a "No Justice, No Peace" sign on Saturday, said.
Lewis stressed that it was not just African-Americans who were outraged by the police brutality cases.
"Today is about solidarity — it doesn't matter if you're black, Chinese or whatever. We all want to change the systemic problem in our system of justice," the protester told Sputnik.
Thousands of Americans gathered in New York's Washington Square Park in Manhattan Saturday to march in a peaceful protest against US police violence.
The organizers of the event, dubbed the "Day of Anger", are demanding an end to racial profiling by police and the creation of an independent prosecutor to handle police misconduct.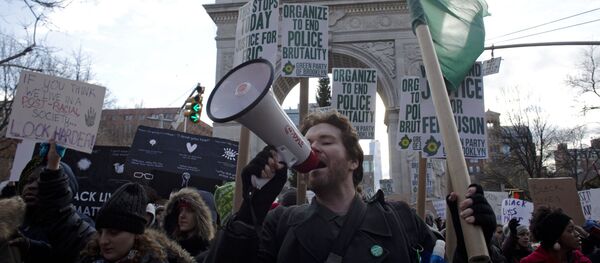 13 December 2014, 20:59 GMT
The protest is the latest in a series of nation-wide demonstrations held in the United States in the past few months over the cases of Michael Brown and Eric Garner, who were killed by police officers Wilson and Pantaleo in August and July, respectively.
US Attorney General Eric Holder has ordered a federal civil rights investigation into the Garner case after a New York grand jury decided not to indict Daniel Pantaleo earlier this month. Two weeks earlier, a Missouri grand jury announced that it would not be charging Darren Wilson.