MOSCOW, December 14 (Sputnik) – At least 23 arrests were made during protests against police brutality in Boston, MA.
According to Massachusets State Police blog, 15 men and 8 women were arrested. They have been charged with disorderly conduct, one of the protesters was also charged with assault on a police officer.
"In response to the protests today in Boston, the State Police have currently made twenty-three (23) arrests; 15 men, 8 women. All have been charged with Disorderly Conduct, one of the males arrested was also charged with Assault & Battery on a Police Officer," the statement reads.
Protests against police brutality and racial profiling took place across the United States on Saturday, including New York and Washington. Organizers estimated that between 30,000 to 50,000 people rallied in central New York. "Hands up, don't shoot" and "shut the whole system down" are slogans that can be heard.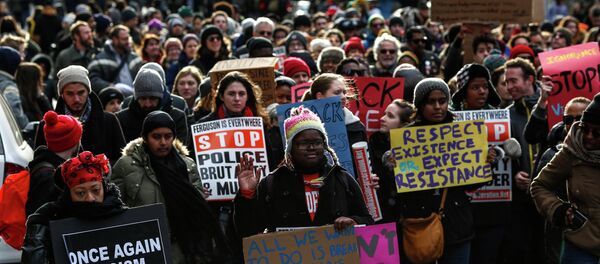 13 December 2014, 22:39 GMT
Protests were sparked by the death of Eric Garner and Michael Brown, two African-Americans killed by white police officers, who have not been indicted.
Garner, 43, died from a chokehold by a white police officer, Eric Daniel Pantaleo, in New York City on July 19. Michael Brown, 18, was shot and killed by lawman Darren Wilson in Ferguson, Missouri, on August 9.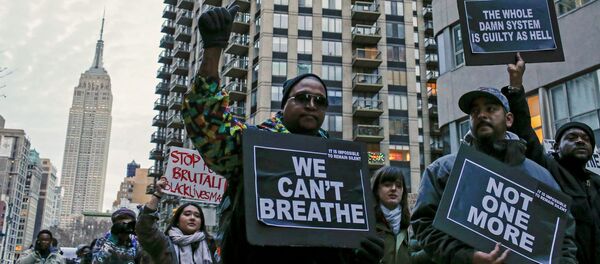 13 December 2014, 23:17 GMT
Most recently, another African-American Akai Gurley was gunned down on November 22 by a white NYPD officer in New York City as he was descending a darkened staircase in a public building.
The killings of unarmed African-Americans by white police officers have led to increased public outcry and waves of mass protests over racial inequality in the United States.