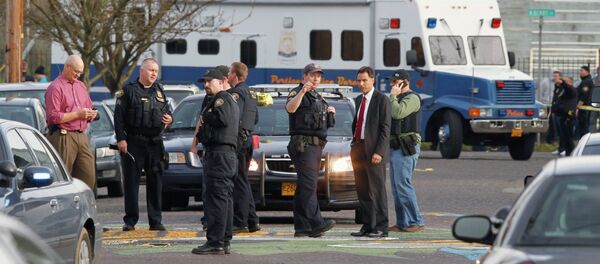 12 December 2014, 22:01 GMT
MOSCOW, December 14 (Sputnik) — December 14, 2014 marks two years since Adam Lanza shot dead 26 people in the Sandy Hook Elementary School in US city of Newtown, Connecticut.
Lanza, 20, killed his mother first, and then went to the Sandy Hook school, where he shot and killed 20 children aged from 6 to 7 and six adults, before taking his own life.
Investigators did not succeed in determining motives for the crime. No traces of alcohol, drugs or medicine were found in Lanza's body. No drugs or medicine were found in his house either. However, criminologists have found rounds of ammunition, a Henry repeating rifle, and Marlin and Enfield rifles, as well as several knives and three Samurai swords at Lanza's home, where he lived with his mother.
Criminologists have also discovered books about autism and Asperger syndrome, which the offender suffered from, in Lanza's room. The killer reportedly rarely left his house, and often spent his time playing violent video games.
Adam Lanza's father, Peter, who at the moment of the tragedy served as the vice president for taxes at General Electric Capital, said he could not explain Adam's violence. Peter Lanza divorced Adam's mother, Nancy, in 2008. Nancy used to work as a teacher's aide, according to the ABC.
There is no information on why Lanza chose the Sandy Hook Elementary to commit a mass murder. The criminologists determined, though, that Lanza was obsessed with the Columbine High School Massacre of 1999, when two students shot 37 people, 13 of whom died.
In March 2013, police have found a spreadsheet detailing the worst mass murders by fatalities in Lanza's bedroom. The spreadsheet included names of the killers and crime instruments.
Following the Sandy Hook massacre, a four-day mourning was declared in the United States.
In May 2013, a special commission in Newtown has suggested to demolish the building, where 20 children died, and to build a new school on its place. The council that consisted of several town officials then said that new school construction would cost as much as $56 million.
In December 2013, local authorities have revealed audio recordings of calls to 911 during the shooting. On that same month, a several thousand-page police report, detailing an investigation into the crime, was released. The paper included photos, phone calls' recordings, and other data relevant to the incident.
The Sandy Hook shooting has become one of the worst massacres in the modern history of the United States. US President Barack Obama has called on the Congress to develop a draft law that would toughen regulations on sale and purchase of weapons to decrease violence levels in the country. The Democratic Party has suggested a total ban on assault weapons and high-capacity magazines. Nevertheless, in April 2013, the US Senate has not passed the bill due to strong opposition of the US gun lobby. Only 54 Senators have voted in favor of the amendment, failing to reach the 60-vote threshold needed.