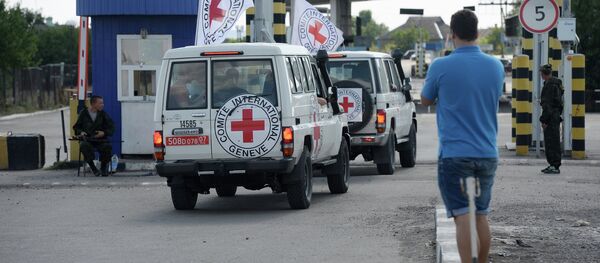 13 December 2014, 01:05 GMT
MOSCOW, December 14 (Sputnik) — Moscow Red Cross Office will send a convoy with more than 80 tons of humanitarian aid to eastern Ukraine's Luhansk on December 15, according to a statement published on official organization's website Sunday.
"Moscow's Red Cross…. carries the humanitarian aid to Ukraine's southeastern regions, provided by the philanthropists, which consists of more than 80 tons of food, as well as disinfectants and medication," the statement said.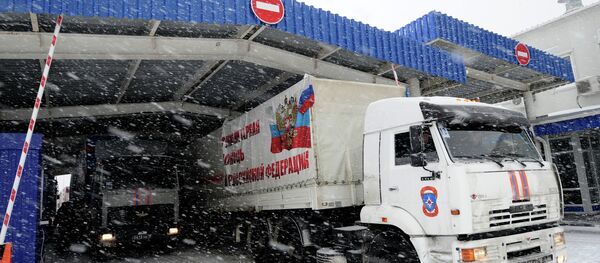 12 December 2014, 07:42 GMT
The delivery will be carried out in cooperation with the Russian Emergencies Ministry.
The convoy will depart at 10 a.m. Moscow time (7 a.m. GMT) on December 15 from the town of Ramenskoe in the Moscow region.
Elderly, children, disabled people under the care of Luhansk Red Cross Office will receive part of the aid, while the rest will be distributed to Luhansk's hospitals.
Since August, nine Russian convoys have delivered more than 10,700 tons of humanitarian aid to eastern Ukrainian Luhansk and Donetsk regions to help local residents cope with critical humanitarian situation. The convoys have delivered food, water, medication, as well as power generators and construction materials.