MOSCOW, December 15 (Sputnik) — Russia will now build its relations with Ukraine purely on the principles of rationality and pragmatism, Russian Prime Minister Dmitry Medvedev said Monday.
"We are not going to support Ukraine's economy anymore. It is a burden for us. And to be honest, we are tired of it," Medvedev said in his opinion piece in the Monday issue of Russia's Nezavisimaya Gazeta newspaper.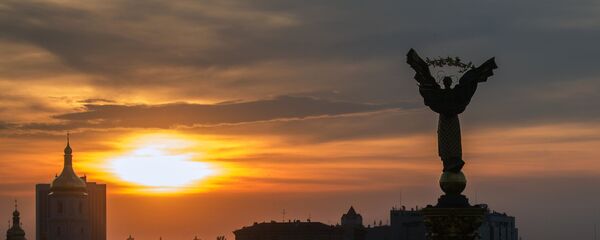 14 December 2014, 21:19 GMT
The prime minister stressed that from now on Moscow would set aside "family sentiments" in organizing relations with Kiev under new conditions.
"Our countries are neighbours and we cannot avoid cooperation. But now this cooperation will be purely 'European', so to speak – rational and pragmatic," Medvedev said.
Military confrontation between Ukrainian armed forces and independence supporters has rocked the country's south-east since Kiev launched combat operations mid-April. In September, the sides have reached a ceasefire agreement in Minsk, Belarus and despite mutual accusations of violating the agreement, a new ceasefire took effect on December 9 in anticipation of renewed Contact Group talks on Friday.
The UN Office for the Coordination of Humanitarian Affairs (OCHA) estimated that as of last week, the Ukrainian conflict claimed the lives of more than 4,600 people. Upwards of 10,000 are injured, about 542,000 displaced within the country and over 567,000 have fled to neighbouring countries.