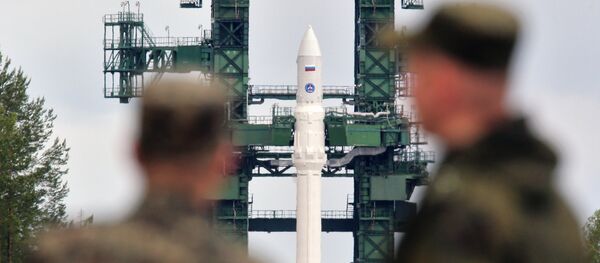 12 November 2014, 07:00 GMT
MOSCOW, December 15 (Sputnik) – Russia's space agency Roscosmos is currently looking at plans to create a national space station that may be included in the new Federal Space Program, Roscosmos head Oleg Ostapenko said Monday.
"I confirm that we are looking at this variant as a likely direction," Ostapenko said.
Ostapenko added that the high-altitude station is also being considered as a base for Russia's lunar program.
"There is also this variant, we are currently considering it," he said.
In September, Roscosmos said it was planning to launch a full-scale moon exploration program in 2016-2025.
According to the reports, the new orbital station will also be used to test manned spacecraft for the lunar mission. Spacecraft will first be delivered to the station, and then continue to the Moon.
In May, Russian Deputy Prime Minister Dmitry Rogozin said that Russia was considering dropping out of the ISS program, and re-direct its funding into more promising space projects.
A Russian space engineering source close to matter told Russian media in November that the country was looking to build its own orbital station, with the project set to begin in 2017. The station will use modules constructed for the International Space Station (ISS), the source added.
Roscosmos Will Decide on New Super-Heavy Rocket Design in January 2015
Russia's space agency Roscosmos will decide on the design of the country's new super-heavy rocket in January 2015, Roscosmos chief Oleg Ostapenko said Monday.
"We have already received blueprints from three leading space rocket enterprises. A panel of experts has already started considering them, and we will select the winner <…> in January," he told reporters.
Roscosmos is looking to develop a super-heavy carrier rocket to be used in Russia's lunar program. Andrei Mazurin, who heads one of the space agency's departments, told RIA Novosti in October the launch vehicle would be able to lift up to 80 tons of cargo into space. In the long term, a rocket capable of carrying 130 to 160 tons could be developed, he added.
Russia's largest existing rocket, the Proton, can launch payloads of up to 20 tons. The modular Angara rocket is also under development and comes in several versions, the largest of which is planned to send up to 35 tons into orbit.
Russian Space Agency's 2015 Budget Unchanged Despite Economic Downturn
Despite the current downturn in the Russian economy, the government has no plans to cut the 2015 budget of the national space agency, Roscosmos chief Oleg Ostapenko told reporters Monday.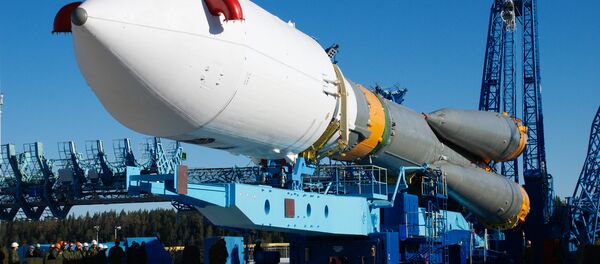 11 November 2014, 02:55 GMT
"Roscosmos budget will not be cut, despite all financial difficulties. But I'm not going to make the sum public until it gets approval," he said.
Ostapenko added that Roscosmos will implement all programs planned for 2015.
The 2014 budget for Roscosmos stands at 165.8 billion rubles ($2.8 billion). In comparison, US space agency NASA's budget for 2014 totals $17.6 billion, according to NASA's website.
The Russian economy has been showing signs of a slowdown following a steady decline in global oil prices. Exports of crude make up a large portion of the Russian budget's revenues.
In addition, Russia has been subject to several waves of economic sanctions imposed by the West against the country's energy, defense and banking sectors over Moscow's alleged involvement in the Ukrainian conflict. Top Russian officials have repeatedly denied the accusations, calling actions of the western powers illegitimate.
Vostochny Space Center to Be Ready in Time Despite Current Delays
The construction of the Vostochny space center in Russia's Far East will be completed as scheduled, although it currently runs behind schedule in some areas, the head of Russia's space agency Roscosmos said Monday.
The project, initially estimated to cost 400 billion rubles ($7.4 billion at the current exchange rate), is scheduled for completion in July 2015.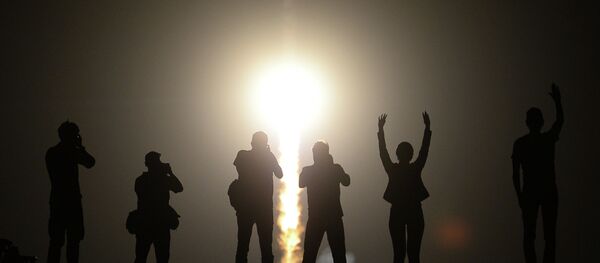 20 November 2014, 02:09 GMT
"In some areas, [the construction] has been seriously behind schedule. But I'm sure that the deadlines set by the president and the government will eventually be met," Oleg Ostapenko told reporters.
The project has been plagued by missed deadlines and a corruption scandal involving the former head of one of the project's main contractors, who was arrested earlier this year on charges of embezzling 1.8 billion rubles ($35 million at the current exchange rate).
Earlier in December, Russian Prime Minister Dmitry Medvedev replaced the project's most senior manager.
The Vostochny space center is located in the Russian far eastern Amur region. The facility is expected to reduce Russia's dependency on the Baikonur cosmodrome in Kazakhstan which in on lease from the Kazakh government to Russia until 2050.
The Russian government also hopes that the Vostochny will benefit the economy of Russia's Far East, and will enable the country to conduct more launches.
The construction of the space center began in 2012. The first launch of a carrier rocket from the Vostochny is scheduled to take place in 2015, while the first piloted spacecraft is set to take off from the facility in 2018.