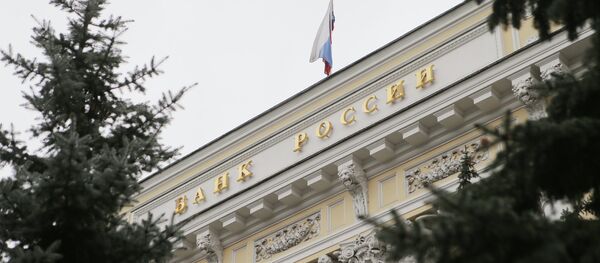 16 December 2014, 07:51 GMT
MOSCOW, December 16 (Sputnik) – The dollar and euro had risen 20 to 26 percent against the ruble by 3:18 p.m. in Moscow on Tuesday, as panic-stricken investors deserted the Russian currency in droves.
By Tuesday afternoon the dollar had risen to 77.25 rubles, up 12.80 rubles from Monday's close, and the euro was 97. Earlier in the day's trading the dollar jumped as high as 80.10 rubles, and the euro to a high of 100.74.
The Central Bank has not yet taken any attempts to intervene.
Earlier in the day, the Central Bank of the Russian Federation increased its key interest rate from 10.5 to 17 percent effective immediately in an attempt to limit substantially increased ruble depreciation risks and inflation risks.
The Central Bank's decision followed a so-called "black Monday", when the Russian ruble suffered its sharpest decrease in 16 years. At the end of the day Monday, one dollar cost 64 rubles, while one euro was worth 79 rubles, the lowest level since 1998.
Russian economy feels the impact of the Western sanctions that were imposed on Moscow against its alleged involvement in the Ukrainian crisis, although Moscow has repeatedly denied those claims. Russia's economy also suffers from a sharp decline in oil prices, as the country's budget is dependent on energy exports.