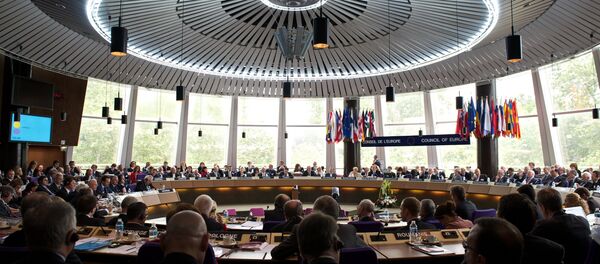 16 December 2014, 13:41 GMT
MOSCOW, December 17 (Sputnik) – Russia will have to comply with the court ruling by the European Court for Human Rights (ECHR) with regards to the defunct oil company Yukos, Russian Justice Minister Alexander Konovalov said Wednesday.
"The justices have made a ruling and we need to accept it. We believe that it is ungrounded but there's nothing we can do about it," Konovalov told journalists.
The minister made the statement following the ECHR's upholding of a verdict Tuesday obliging Russia to pay almost 1.9 billion euros ($2.4 billion) in compensation to former Yukos shareholders, according to the court's communique.
The announcement prompted a quick response from the Russian Finance Ministry that pledged in its press release to act on the court's decision in order to "safeguard Russia's sovereign interests."
The justice minister pointed out that the court's ruling could not be enforced. "It depends on the goodwill of a Council of Europe member state," he said, adding the Committee of Ministers of the Council of Europe was to monitor whether Russia complies with the ruling.
Konovalov added that the "future will tell" to what extent Moscow will be acting on the ECHR decision.
The ruling came less than a month after the Justice Ministry appealed a similar ruling made in July by the Permanent Court of Arbitration in The Hague. The decision awarded compensation to Group Menatep Limited (GML), a holding that unites the former owners of the defunct oil company Yukos.
Yukos, which used to be controlled by former oligarch Mikhail Khodorkovsky, was declared bankrupt by a Moscow court of arbitration in 2006. Khodorkovsky spent a decade in prison for fraud and tax evasion until he was pardoned in December 2013.
Yukos managers claimed the Russian government had illegally forced the energy company out of business, which allowed Rosneft to snap up its assets and become the country's largest oil producer. Over the past few years, Yukos managers and investors have won several cases against Russia and companies that acquired Yukos assets.