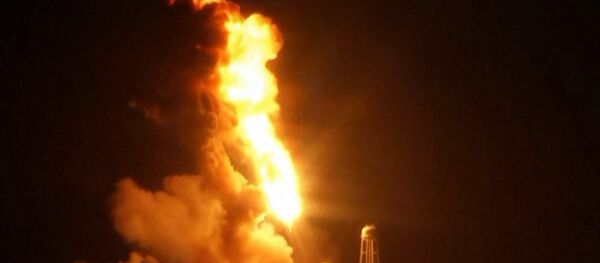 5 November 2014, 12:16 GMT
MOSCOW, December 17 (Sputnik) — Russian design bureau
Energomash
has signed a contract with the US-based Orbital Sciences Corporation for the delivery of 60 RD-181 rocket engines to be used to power the Antares rocket's first stage, Russia's Izvestiya newspaper reported Wednesday.
"We have committed to deliver a total of 60 engines. Currently, there is a firm contract for 20 engines which we have begun moving forward with, since the first two machines are to be delivered next June," a source from Roscosmos, Russia's Federal Space Agency, told the newspaper.
In addition, two options of 20 rockets each were signed in the $1 billion deal between NPO Energomash and Orbital Sciences, according to the source.
On Tuesday, Orbital's Launch Systems Group (LSG) executive vice president and general manager Ron Grabe was quoted by the Aviation Week journal as saying that the company decided upon the RD-181 engine "because it offered the best combination of schedule availability, technical performance and cost compared to the other possible options."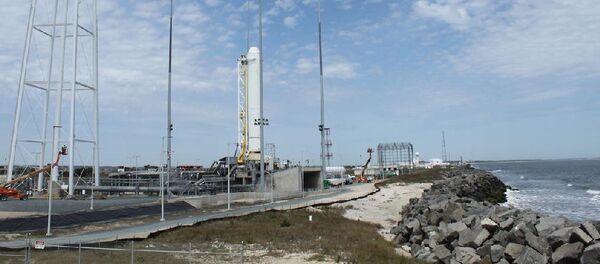 5 November 2014, 17:05 GMT
Orbital's vice president for space launch strategic development, Mark Pieczynsky was quoted by the journal as saying that first shipments were scheduled for summer and the next for the fall of 2015.
The Antares rocket launcher carrying the Cygnus spaceship, which was to deliver in excess of two tons of cargo to the International Space Station (ISS), exploded six seconds after liftoff on October 28 at the Wallops Flight Facility in Virginia. The reasons for the accident have not been officially disclosed but experts have pointed to engine failure.
Until recently, the Antares was powered by a pair of AJ26-58 rocket engines, modified versions of the Soviet NK-33 engines developed in the 1970s.